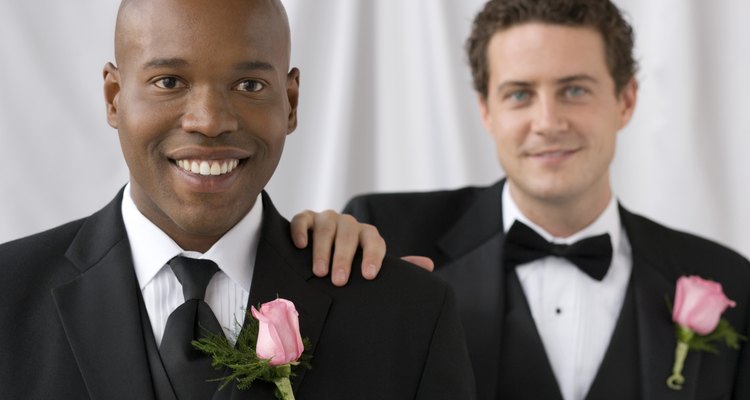 Jupiterimages/liquidlibrary/Getty Images
Anecdotal evidence suggests a man could wear a black suit, instead of a tuxedo, to an awards gala, show premiere or a wedding to quite stylish effect. But the debate over whether a man should wear a black suit rather than tux to a formal occasion isn't settled. Formal attire has traditionally been worn to make a man appear his best dressed, and tuxedos are specifically designed for that purpose. But "GQ" magazine's veteran style arbiter Glenn O'Brien is of the opinion that a nice black suit that fits well makes a man appear more dapper than a rented tuxedo.
Tuxedo Benefits
The modern tuxedo's origin traces back to the late 1800s, when the distinguished gentlemen of Tuxedo Park, New York began wearing them to evening social occasions. The modern model took the place of the white tie and tales look that had previously been the norm of formality. Unlike most other trends in menswear, the tuxedo -- even with slight tweaks and variations -- has remained the standard-bearer for formality because its basic design is deemed timeless. The satin-trimmed jacket and slacks, the bow tie and white shirt with studs instead of buttons, glossy slippers and (alternately) the cummerbund are all intended to make a man appear leaner, taller, distinctive and respectful of the occasion.
Black Suit Benefits
Formalwear strictures have loosened over time and, unless an invitation to an event explicitly requests "white tie" or "black tie" apparel, a black suit is generally deemed acceptable for formal and semi-formal occasion. A well-tailored black suit from a man's personal wardrobe is likely to fit better than a rented tuxedo, which can only be customized so much. Many modern menswear designers tend to manufacture tuxedos that reflect their customers taste in suits, so wearing a black suit for special occasions doesn't appear as out of place as it would have decades ago.
Tuxedo Drawbacks
Many men are reluctant to wear a tuxedo because the occasion to do so is so unfamiliar to them. Simple details, like wearing the cummerbund around the waist with the pleats facing upward or knotting a bow tie, are daunting and confusing. Unless a man is wearing a tuxedo that was tailored for him, the rented one he wears may not flatter him in the sleeves, the leg, the shoulders or the chest. And it requires nimble fingers to affix studs to the button placket of the shirt.
Black Suit Drawbacks
A black suit cannot mimic the sartorial details of a tuxedo, and the difference stands out. Tuxedo jackets traditionally have lapels covered with silky grosgrain or satin fabric, and covered buttons and side-striped pants to match. Tuxedos are typically worn with silky cummerbunds or vests, as well as suspenders, and a black suit may not be tailored to accommodate such accessories. Tuxedos are traditionally worn with white shirts that are pleated, ruffled or pin-tucked around the breast plate and such shirts are not easily paired with black suits intended to be worn with basic dress shirts.
References
Writer Bio
A. Scott Walton began his journalism career in 1985 at the "Nashville Tennessean." His reports have extended to radio, television and the Web and he has written extensively for the "Detroit Free Press," the "Atlanta Journal-Constitution," the "Atlanta Voice" and many other publications. Walton holds a Bachelor of Arts in communications from Vanderbilt University.
Photo Credits
Jupiterimages/liquidlibrary/Getty Images