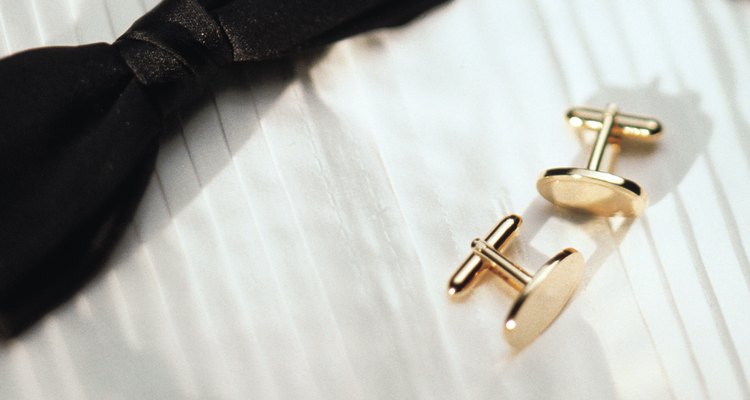 Comstock/Comstock/Getty Images
The classic tuxedo is a black woolen suit consisting of a single-breasted jacket with a peaked satin lapel, black slacks with matching satin side seam, a dress shirt and cummerbund, and black patent-leather shoes. Though wide variations in color and style have marked the evolution of the tuxedo, protocol still dictates the correct times to go "black tie" formal. If your budget or personal style doesn't accommodate a tuxedo, you can achieve a similar – though not duplicate – look using a black suit.
Choose an appropriate suit. Wear a black, slim-cut, tailored suit, preferably in wool or a wool-polyester blend. Opt for a single-breasted jacket with a pocket.
Match the suit to a French-cuffed white dress shirt.
Wear a bow tie in black or other solid color.
Attach black suspenders to the trousers; do not wear a cummerbund.
Complement the suit with black lace-up dress shoes and thin black socks.
Accessorize with a bow tie in red, black or another solid color. Add gold or silver cufflinks.
Place a carnation or a pocket-square handkerchief in the jacket pocket.
References
Writer Bio
Susan Salter is a Michigan-based writer and editor whose articles have appeared in magazines as diverse as World Energy Monthly Review and Michigan's Most Eligible. She has also contributed articles to several reference books and is an advertising copywriter whose employers included a global ad agency and a Fortune 500 company.
Photo Credits
Comstock/Comstock/Getty Images