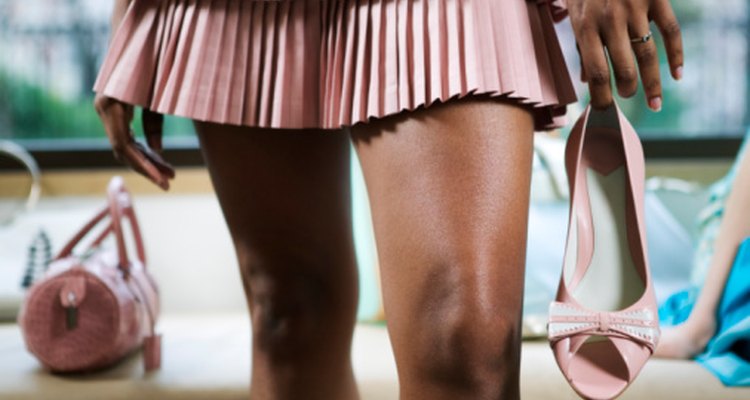 Creatas/Creatas/Getty Images
The iconic Japanese schoolgirl outfit is found in nearly every facet of Japanese culture. Similar to the European and North American Catholic schoolgirl outfit, the costume relies on short, plaid or pleated skirts, bows, blouses and even a sailor-style cape or jacket. Buying a replica costume to wear online is easy, but making a schoolgirl outfit from other articles of clothing is even easier and requires little to no sewing.
Check thrift stores for plaid, pleated skirts that can be shortened if necessary.
Pin the skirt under to a mid-thigh length. Do not bend the pleats; stretch out the fabric when pinning, then fold along the pleats to keep the design. If the skirt puckers, cut off some of the excess fabric, leaving at least an extra inch for hemming. Hem using iron-on hemming tape or needle and thread.
Add the school pin to the white, button-down shirt's collar. Flip the collar up and add the tie or ribbon. Tie the ribbon into a bow and fold the collar back down.
Stretch white tube socks to knee-high length. Put on black shoes. Consider using brightly colored shoelaces for added visual impact.
Place colorful accessories such flower-shaped gems, pins or clips in your hair.
References
Writer Bio
Writing since 2004, Darren Bonaparte has been published in "AP Unique Magazine," "The Clause Newspaper," numerous e-books and the "San Gabriel Valley Examiner." He has a double Bachelor of Arts in journalism and theater Arts from Azusa Pacific University.
Photo Credits
Creatas/Creatas/Getty Images