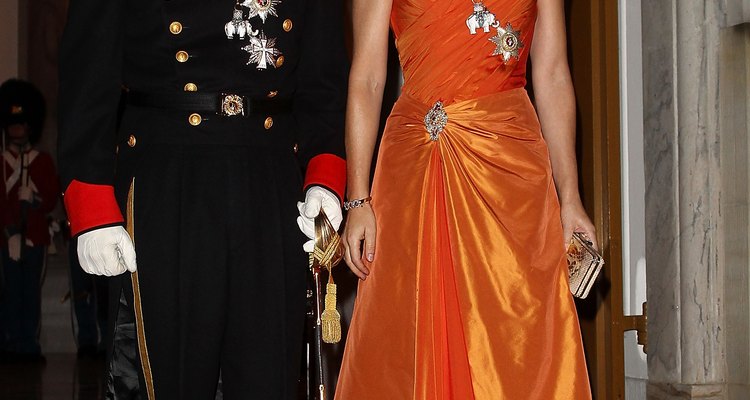 Danny Martindale/Getty Images Entertainment/Getty Images
Your fanciest frocks are always the go-to pieces when you are invited to a formal banquet. Often the invitation indicates the level of formal attire -- white tie, black tie, creative black tie or black tie optional. An understanding of these style groups helps guide your choice so you will have an elegant arrival.
White Tie
As the highest level of formal dress, white tie attire has the most specific style requirements. Men must wear a tuxedo with a black tail coat and pants with a single satin stripe down the side. Pair a freshly pressed white collared dress shirt with a white tie or bow tie. Black dress socks and shiny black dress shoes are essential. Cuff links should be an opaque mother-of-pearl color. As Crown Prince Frederik did for a formal New Year's Day banquet in 2013, white tie also calls for men to wear white gloves. For women, white tie requires full-length formal gowns. Choose a dress style that is appropriate for your figure and a dress whose fabric has movement -- wearing a frock that is too tight cheapens your look. Add to the elegance by choosing a regal color in a rich jewel tone. For example, pair a deep blue gown with diamond accent jewelry and silver pumps for a sophisticated look.
Black Tie
While tuxedos are still a must for black tie, men have the option to add a black vest or cummerbund over their white dress shirt. A black tie or bow tie is appropriate. If wearing cuff links, a black onyx style is required. Although men's options are relatively similar to white tie, black tie guidelines introduce a whole new style for women -- the cocktail dress. With a variety of styles and colors, these knee-length dresses add flair to black-tie affairs. While long gowns are still acceptable, cocktail dresses allow women to showcase their footwear. Bring the beauty of springtime blooms to a formal banquet by wearing a lavender dress and floral printed pumps. Accessorize with a necklace featuring beaded blooms for a whimsically demure look.
Creative Black Tie
As the name suggests, creative black tie allows both men and women to pump some color into their formal looks. Still being black tie, men need to wear a tuxedo, but dress shirts, vests, cummerbunds, ties or bow ties can all feature colors. Make color choices carefully for a classy ensemble. If his date is wearing a magenta cocktail dress, a man could accent his black tuxedo with his a magenta tie and vest. While full-length gowns and cocktail dresses are still required for women, creative black tie allows unique and trendy style touches. For example, wear a full length strapless red satin gown, black stilettos with rhinestone-embellished straps and matching clutch purse that is encased in glittered fabric.
Black Tie Optional
When attending a formal banquet that is black tie optional, men can break away from a tuxedo and shift to a suit instead. Dress shirts and ties can be either solid colored or patterned. Patent leather dress shoes are still essential. For women, black tie optional allows for the introduction of separates. Classic skirt styles and blouses are appropriate. Cocktail and little black dresses are elegant choices for black tie optional dress guidelines.
Photo Credits
Danny Martindale/Getty Images Entertainment/Getty Images