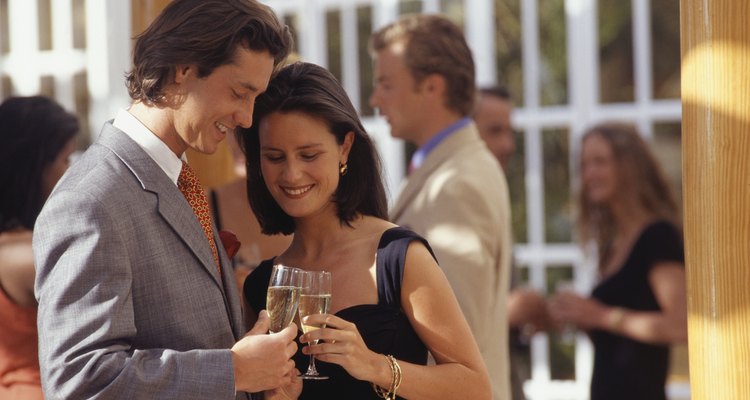 David De Lossy/Photodisc/Getty Images
Although some people are confused by semiformal attire, this particular dress code is easy to follow, as many suitable garments are already in men's and women's wardrobes. The key to semiformal clothing etiquette is to interpret the event correctly, avoid extreme formality or casualness, and present yourself in a subtle yet sophisticated fashion.
Understand the Invitation
Upon receiving an invitation to a semiformal event, guests should review any specific dress code requests. If the event is a themed party, for example, feel free to wear standout prints and bold colors that are relevant to the party's focus. However, if the occasion simply states "semiformal," dress on the conservative side. A man invited to an afternoon wake or somber occasion would not pair a dark suit -- the standard for men's semiformal attire -- with a bright-colored tie. A woman joining co-workers for a semiformal party would not wear an outfit deemed risque or revealing.
Do Not Overdress
Although semiformal occasions call for dressier outfits than leisure ensembles, men and women should not be tempted to overcompensate on their attire. For men, a black or white tuxedo suit is too formal for semiformal occasions. Instead, opt for dark matching suit jacket and pants, a dress shirt and tie. If the semiformal event takes place early in the day, a light neutral-colored suit is also acceptable. Women should avoid floor-length evening gowns for semiformal events. Dressy separates and cocktail dresses are more appropriate clothing options. For weddings, dress respectably but do not wear white or overdress. A guest's outfit should not distract from the bride, groom and wedding party.
Avoid Casual Clothes
The flip side of overdressing is underdressing, another common offense to semiformal clothing etiquette. Although you're not expected to show up in a tuxedo or evening gown, semiformal events are not suitable for everyday attire. Items such as polo shirts and cotton leggings are unacceptable. Fashion jeans and dark denim pants might be considered dressy when paired with a button-down shirt or silk blouse, but they are still considered more casual than formal.
Don't Forget Your Footwear
Unless the event explicitly says otherwise, under no circumstances should guests wear sneakers or flip-flop sandals to a semiformal occasion. Shoes for semiformal events should look dressy and be free of scuffs, scratches and holes. Men fare well with black oxfords, a versatile lace-up style. Women can choose from high and low heels or sandals. Dressy flats are appropriate for the woman who expects to be on her feet for the duration of the event.
References
Writer Bio
Diane Bautista has more than seven years of professional experience writing for a variety of industries including fashion retail, communications technology and nonprofit. She currently works as an advertising copywriter and holds a B.A. in English from Washington State University.
Photo Credits
David De Lossy/Photodisc/Getty Images