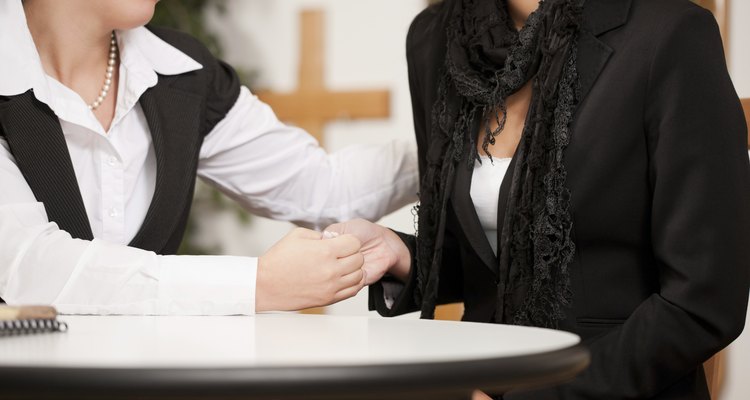 kzenon/iStock/Getty Images
Death is never a welcome visitor, but there inevitably comes a time when you must say a final farewell to someone you care about. While tradition holds that you should dress up and wear black to a funeral, it can be trickier deciding what to don for the funeral home wake. But with some planning and understanding of the occasion, you can show up to pay your respects looking tasteful and appropriate.
Suits
Although a jacket is not required for visitation, it certainly is not over-dressing. A skirt suit or pant suit for women and a suit, sport coat or blazer for men are appropriate options. Jeans can be a close call. If you wear them, choose a dark style with minimal, if any, ornamentation. Pair them with a dress shirt or blouse and a jacket, or a sweater and necktie, for a polished look. Dressier footwear is preferable to casual and athletic shoes; closed-toe pumps for women are a discreet choice.
All Black
It's too soon to look so morose. The bereaved are trying to stay somewhat upbeat as they greet seemingly countless well-wishers. Save monochromatic black for the funeral. However, don't go to the other extreme and overdose on bright colors, loud prints and metallic glimmer. They don't suggest sorrow or mourning, and you're not attending a concert or garden party. You're best off tastefully de-emphasizing your appearance by sticking to traditional styles in non-aggressive neutral hues, such as shades of gray, brown, blue, black and white.
Too Casual
Some looks are too casual for such a serious and somber occasion. You don't want to come across as if you don't care about the deceased or the bereaved, or don't have enough respect to dress with more decorum. If you can wear it to the beach -- shorts, casual tank tops, flip-flops -- don't wear it to a funeral home visitation. Work uniforms are inappropriate, as well, and should not be worn unless they are clean and it was impossible for you to change clothes. For women, even if the weather is hot and your option is a dress, make sure your shoulders are covered, the neckline is modest and the hemline is longer than mini-length.
Children
It matters what kids wear. This is a time to teach them appropriate attire, not allow them to wear whatever they please because of their youth. For girls, a dress -- or skirt with a blouse or sweater -- are appropriate looks. For boys, a necktie with dress pants, if not a jacket, are in order. Like adults, neutral colors are best. Choose dressier shoes for children rather than sneakers.
Writer Bio
LaMont Jones was an award-winning fashion and beauty editor for a decade at the "Pittsburgh Post-Gazette." A five-time nominator and judge of the CFDA Awards, he covers New York Fashion Week regularly. Jones is a 2011 inductee into the Pittsburgh Fashion Hall of Fame and coaches fashion models.
Photo Credits
kzenon/iStock/Getty Images