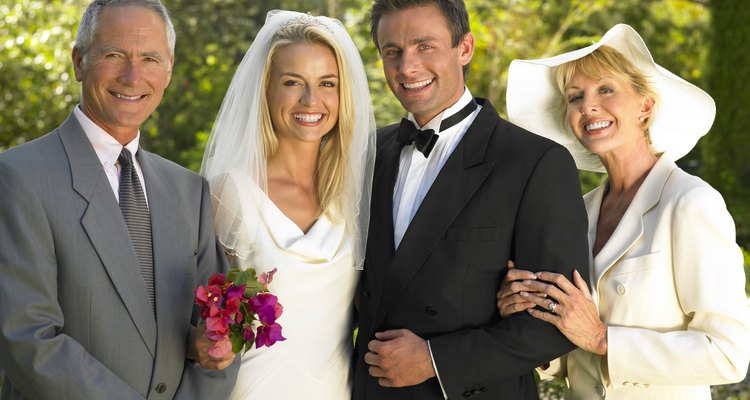 BananaStock/BananaStock/Getty Images
One of the most frustrating but rewarding aspects of wedding planning is shopping for all of the necessary apparel from the bride's dress to the bridesmaid outfits and the mother of the bride dress. A summer morning wedding can provide a number of options for your mother of the bride dress.
Formality
Morning events are typically more casual than black-tie evening events. Wear an outfit that matches the formality of the event. As mother of the bride, you will dress a little more formally than regular guests. If the invitation or tone of the event is "white tie" you will need to dress formally in something along the lines of an evening gown. A casual dress code will allow you to wear a loose pant suit or summer dress.
Colors
Several colors should be avoided during a summer wedding. Obviously, don't wear white so as not to steal the spotlight from your daughter. A mourning black color should also be avoided. Some couples like for the mothers of the bride and groom to coordinate and to wear a color that is close to the same hue as the wedding party. Since it is a summer and morning wedding, lighter colors are appropriate. Pastel pink, green, blue and yellows are appropriate. Traditional business colors, such as navy or gray are also suitable.
Length
Summer wedding apparel can typically be shorter than apparel from other seasons. Knee length or tea length outfits are appropriate. Outfits that are floor length are traditionally appropriate for all seasons. The length of the sleeves can also vary. Strapless tops or dresses can be appropriate as long as they are well-tailored.
Types of Clothing
The type of outfit you wear can match your own style as well as your daughter's preferences. A summer sundress, pant suit or an evening gown are a few options for a summer morning wedding. If it is likely to be hot, try a skirt with a short-sleeve jacket or a long strapless gown.
Shoes
Heels are traditionally accepted footwear for weddings. Flats are suitable for morning weddings. Sandals that are more formal in nature are also appropriate for summer morning weddings.
Accessories
A wide-brimmed hat can protect you from the harsh sunrays. Jewelry should be minimal and coordinate with the rest of your outfit.
References
Writer Bio
Samantha Kemp is a lawyer for a general practice firm. She has been writing professionally since 2009. Her articles focus on legal issues, personal finance, business and education. Kemp acquired her JD from the University of Arkansas School of Law. She also has degrees in economics and business and teaching.
Photo Credits
BananaStock/BananaStock/Getty Images