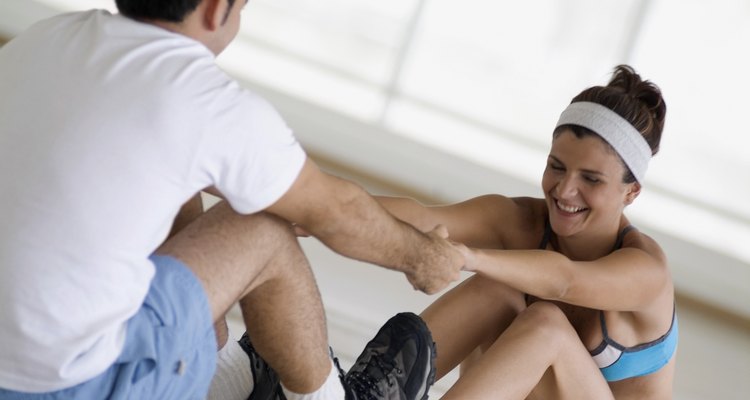 Medioimages/Photodisc/Photodisc/Getty Images
While most of us don't wash our everyday bras every day, sports bras require significantly more frequent laundering. Keeping your sports bras clean can extend their lives and reduce the potential for odor or skin irritation. Sweat and dirt can contribute to the breakdown of elastic and fibers. How often you need to wash depends upon your workouts, how much you sweat and your own tolerances.
Washing Sports Bras
Like other bras, sports bras should be washed by hand to extend their lives and wear. Depending upon the style of your bra, you may feel comfortable washing it in a lingerie bag in the gentle cycle of your washing machine. Machine washing, while not optimal, will do little harm if your sports bra is a compression-style bra with minimal structure. If you do opt to wash in the machine, remove any pads before you launder your bra and hand wash these.
Light Workouts
If you've hit a yoga class or gone for a walk outdoors or on a treadmill, you may not need to wash your sports bra. These activities are low-impact and, typically, don't leave you sweat-soaked. If you could do the activity comfortably in an everyday bra, you may be able to let your sports bra go another day without any discomfort or significant wear.
Everyday Exercise
If you've broken a sweat, your bra likely needs laundering. Regular workouts do leave bras damp with sweat, particularly along the band and wires, if you're wearing an underwire. While washing your bra after every workout is ideal, you may find that it's adequate to rinse it while you shower and wear it another day. A thorough rinsing will eliminate much of the sweat and reduce damage to the elastic and structure of your bra from dried perspiration, as the salt in sweat can reduce the longevity of a bra.
Hard Workouts
Whether you're a runner, do hot yoga or engage in other heavy activity, your bra suffers. Heavy sweating does significant damage to your workout wear, including your sports bra. Rinse your bra immediately after your workout and launder as soon as possible. Sports bras should always be washed if they're sweat soaked, with special care paid to the bra band.
References
Writer Bio
With a master's degree in art history from the University of Missouri-Columbia, Michelle Powell-Smith has been writing professionally for more than a decade. An avid knitter and mother of four, she has written extensively on a wide variety of subjects, including education, test preparation, parenting, crafts and fashion.
Photo Credits
Medioimages/Photodisc/Photodisc/Getty Images