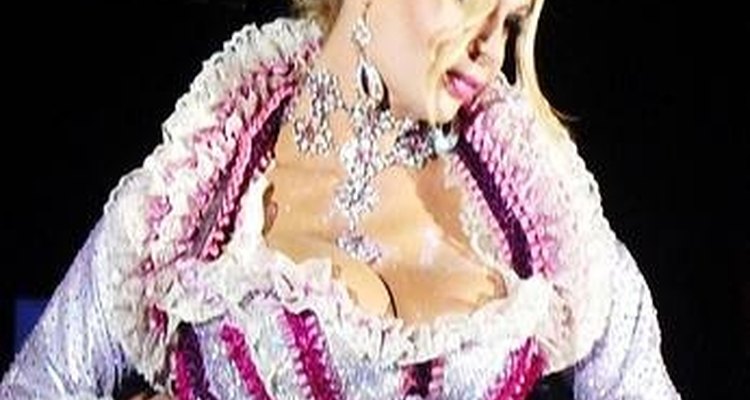 2008 Darwin Bell / Creative Commons
Pretty, supportive bras are widely available for transgendered and cross-dressing men. However, it can be hard to figure out sizing and correct sizes. Conventional shops may not do measurements on a transgender or cross-dress client, and many of those stores don't carry bras sturdy enough for the heavy breast forms that many wear.
Bras for the Transgendered and Cross-Dressing
The male-to-female transgender and cross dressing communities have unique needs when it comes to bras. As a result, a large industry has developed to fulfill the desire for lingerie that is pretty yet creates a believable and comfortable female form. Certain features of the male body can defeat traditional lingerie. For instance, men have wide, muscular backs that most conventional lingerie does not fit. Also, standard clasps may not be strong enough to withstand the forces of the stronger male body. Also, many conventional bras are simply not built to hold the heavy silicone breast forms that many transgenders use. Even post-op trangenders may find that normal bras still prove too small and restrictive for newly implanted breasts.
Fitting Yourself for a New Bra
Fitting yourself for a bra is a process that takes time, a tape measure and frank analysis. Wearing your favorite bra, take the measure and wind it around your lower chest, just under the pectoral muscle (the bottom of the bra). Lower your arms for the truest measure. According to Liv at eTransgender, if the measurement is an odd number, add 5 inches. If it's an even number, add 6 inches. For measurements bigger than 33" around, also add another 3". Next comes the measurement of the full part of the bust. Wind the tape around the nipple area; keep the tape straight! Round up to the next full inch size. Keep in mind, bras have several hooks in order to get more precise sizing. This will be your actual bra size (the 34 in 34C). For the cup, you have to do some math. Take the measurement from step two and subtract it from step one. The difference is your cup. A precise cup measure chart is available on the eTransgender (see Resources).
Knowing When To Say When
Reality is key. In other words, don't channel Dolly Parton in your quest to have a beautiful bust! Since there are so many great breast forms on the market (with custom ones also available), it may be tempting to wow everyone and buy some F cups. These don't look realistic. Look at some women's measurement guides. Select something that is in keeping with your hip measurement and bone structure in order to create an hourglass silhouette. If you're finely built, it's probably best to stay at or below a C cup. Stockier builds can accommodate a C, D or DD. However, bigger breasts than that may look more comedic and attract the wrong sort of attention. At the same time, a thicker diva may look odd with A cups. Think in terms of proportion.
Bras That Suit Breast Forms
Several online stores sell lovely bras that can accommodate the weight of jelly breast forms. Sturdy bras don't have to be ugly. Bras with deep pockets are made especially for use with breast forms. They're available in skin tones, jewel colors and sheer styles. Others don't have pockets, but are sturdy and offer good coverage to keep forms from shifting. At online outlets like the Breast Form Store, these bras are specially made for transgenders and cross-dressers.
The Future of Transgender Bras
Online merchants are answering the call for transgender bras. XDress, a popular online boutique, now carries lines with lace ruffled panties, silk camisoles and bra sets for men's unique bodies. As designers see that there's a booming market for transgender underwear, there will be more of an assortment for those that wish to live their feminine side.
Writer Bio
Gigi Starr is a freelance fashion writer. She previously served as the blog editor for a major online fashion blog and has more than a decade of backstage experience in the beauty and high fashion industries. She has worked for businesses like an internationally renowned theatrical touring company and events such as the Mercedes-Benz N.Y.C. Fashion Week.
Photo Credits
2008 Darwin Bell / Creative Commons