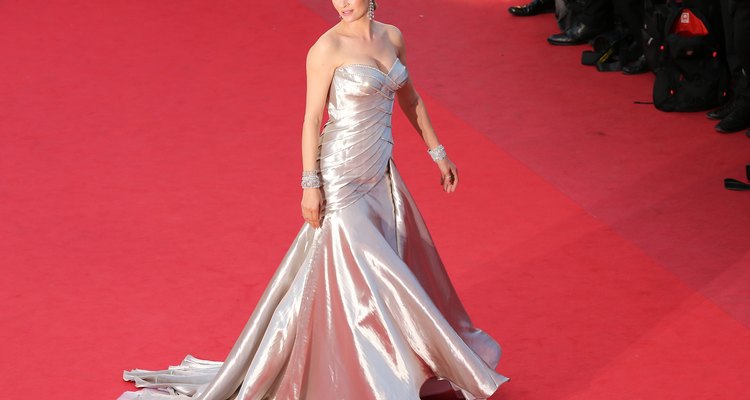 Jupiterimages/Photos.com/Getty Images
Whether you're wearing a wedding gown, a prom dress or a sweet summer strapless sundress, keeping your dress up and where is belongs is essential. Strapless dresses have a tendency to slip down your back and bust, leaving you pulling and tugging or even causing unwanted exposure. There's no need to run for the straps -- just observe a few simple and smart strapless strategies.
The Right Bra
The right bra will help to keep your strapless dress from slipping. For a secure fit, opt for a structured strapless bra with an underwire and non-slip grip on the back strap and the tops of the cups. A longline strapless bra will provide you with even more security, particularly if you're wearing a wedding gown. When you're trying on strapless bras, be sure to jump, stand up and sit down to make certain your bra stays in place.
Make it Fit
Dress alterations are essential for most strapless dresses. Strapless gowns typically feature boning to shape and support the dress. If the dress does not fit in the bust, bodice or waist, it will not stay in place properly. Visit an alterations shop to have the dress taken in for a perfect and non-slip fit. You may want to have your seamstress add a waist stay. This grosgrain band secures the dress at the waist, fastening with hooks and eyes. The non-elastic ribbon helps to keep the dress in position.
Tape
Double-sided tape is a popular choice to keep strapless gowns up and in place. While there are a number of double-sided fashion tape products on the market, another product designed for use on skin may be more secure and durable. Wig tape, available at wig shops and online, can help to hold your strapless dress or gown in place through a busy day or a long night of dancing.
Add Straps
If you're still concerned about a strapless gown slipping, consider having delicate straps added. Rhinestone and other decorative straps can be purchased at fabric stores and stitched into place, or you can opt to have lace straps or cap sleeves added to your dress by an alterations shop. While this will alter the look of your strapless gown, the security it provides may be worth the change.
References
Writer Bio
With a master's degree in art history from the University of Missouri-Columbia, Michelle Powell-Smith has been writing professionally for more than a decade. An avid knitter and mother of four, she has written extensively on a wide variety of subjects, including education, test preparation, parenting, crafts and fashion.
Photo Credits
Jupiterimages/Photos.com/Getty Images