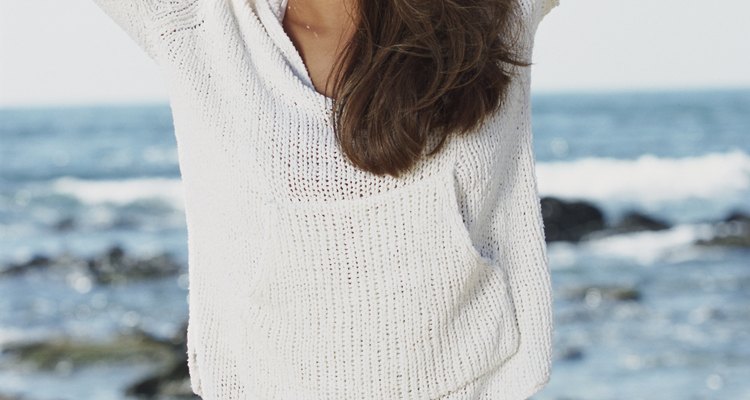 Photodisc/Photodisc/Getty Images
Transform a boring neckline on a hoodie into a fashionable V-neck. The V-neck is ideal because it draws the eye downward and creates a flattering look on both men and women. Hoodies are casual items that are often worn with shorts or jeans and over a fitted undershirt. In addition, the hoodie often contains a silk screen print that is low enough to accommodate a "V" shape. Refashioning a hoodie into a V-neck is a simple procedure that takes minimal time to complete.
Lay the hoodie, right-side up, on a flat surface. The hoodie neckline will be facing upward and the hood will be on the backside.
Iron the hoodie to remove any wrinkles. You want the hoodie to be straight and free from wrinkles to get an accurate line. Set the iron heat to the recommended temperature for the fabric of the hoodie.
Draw a "V" neckline using tailor chalk. The "V" shape can be as wide, short, long or narrow as you prefer. To draw a standard "V," start the line at the edge of the current neckline, next to the area where the hoodie string extends out of the fabric. Draw the desired depth and width of the "V" so the lines are the same on either side of the neckline.
Cut along the chalk lines with fabric scissors. Discard the cut-off material.
Keep the edge raw and allow fraying by not hemming the neckline, or apply a no-sew hem tape for a polished look. To apply the tape, make a 1/4-inch slit at the tip of the "V" and turn the hoodie inside out.
Fold the interior hemline 1/4-inch inward and apply the tape. Hold the iron onto the tape for five to seven seconds so the hem tape adheres to the fabric. Move the iron along the hemline until all the tape is attached. Trim the tape and discard.
References
Writer Bio
Tabitha Harwell has been writing since 2008, with articles appearing in local publications and various websites. Her background includes a career in the fashion and beauty industry. Harwell holds a Bachelor of Arts in public relations.
Photo Credits
Photodisc/Photodisc/Getty Images