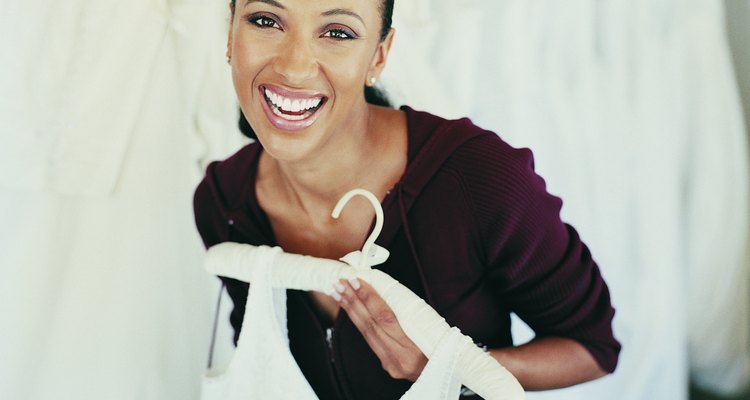 Digital Vision./Digital Vision/Getty Images
Finding the perfect wedding dress can be a challenge. At times, when you finally find exactly what you've been looking for, the neckline is too low. Unfortunately it is not possible to alter the actual wedding dress to increase the neckline height. However, adding a piece of fabric inside the neckline, called a modesty panel, can fix a low neckline on a wedding dress. Make your own modesty panel to use in your wedding dress, or even for other types of dresses.
Place a tape measure across your chest where you could like the neckline to fall. Measure the distance of the opening of the neckline on the dress. Add five-eights of an inch to this measurement.
Turn the tape measure 90 degrees and measure from where you would like the neckline of the dress to fall to the lowest point of the neckline on the dress. Add five-eights of an inch to this measurement.
Cut out a rectangle from the fabric using these two measurements.
Sew a zigzag stitch around all sides of the rectangle with a sewing machine.
Cut three strips of lace that are the same length as the top of the rectangle of fabric. Layer the lace across the fabric rectangle and pin it in place. Sew along the right and left sides of the rectangle to secure the lace in place. If you do not like lace, use satin or organza fabric instead. Another option is to hand stitch along the bottom edge of a strip of satin, push the fabric together while pulling the thread to create ruffles and sew the ruffles to the fabric square. Bows, beads or flowers can also be sewn to the fabric square for a different effect.
Hand-sew the fabric square into the neckline of the wedding dress. Stitch the fabric square onto the lining of the wedding dress to hide the stitches made when attaching the fabric square.
Writer Bio
Though constantly traveling the world, Julia Williams is based in Chicago and has been writing since 2006. Williams holds a Bachelor of Science in accounting. She is also a licensed fitness instructor, specializing in Pilates since 2003 and has written hundreds of articles on exercise and health.
Photo Credits
Digital Vision./Digital Vision/Getty Images