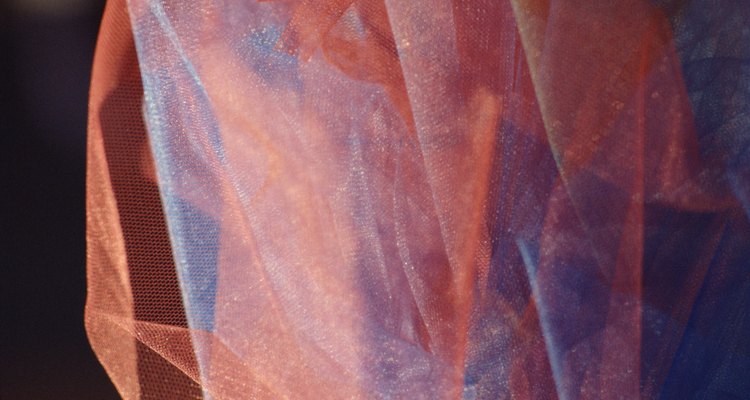 Jupiterimages/liquidlibrary/Getty Images
Shimmery, delicate fabrics such as organza -- used to make bridal attire and decor items including bedding and tablecloths -- are also susceptible to wrinkles. Improper storage or vacuum-packed shipping is often the culprit causing deep, set-in creases and wrinkles. Because this sheer cloth is made from different fibers -- silk, polyester and cotton -- care varies, including how to get rid of those pesky creases and whether ironing is recommended. Make sure you're using the best method to care for this plain-weave, transparent textile so you can restore it to its former glory and beautiful drape.
Steaming Wrinkles Away
Step 1
Hang your sheer organza fabric over a laundry rack, pole hanger or rod. Although you can spread your organza on an ironing board or hang it on a wire hanger, the rounded pole lessens any further creases from setting in. If the label recommends no ironing or a very cool iron, try steaming the fabric to remove the wrinkles.
Step 2
Pour water into the water cap or measuring cup of your handheld steamer, according to your brand's instructions. Follow directions for heating the steamer. Do not press the steam-release button during the heating process. Water droplets can spurt out and leave water stains on your organza fabric, especially if you're working with silk organza.
Step 3
Hold the steamer head 6 to 8 inches away from the fabric. Release the steam as directed, passing the steam in an up-and-down motion over the wrinkled area. This steaming process relaxes the fibers in the fabric, diminishing the wrinkles.
Step 4
Continue to pass the steam head up and down as well as side to side until the wrinkles are diminished and become less visible.
Ironing Wrinkles Out
Step 1
Set your iron to the fabric's recommended setting. For instance, if you're working with silk organza, set your iron to silk, which is generally a low -- cool to warm -- heat setting. Because polyester and cotton are often medium to high heat settings, read the care and fiber content label for your textile or product to ensure you do not scorch the fabric.
Step 2
Spread the organza on your ironing board. Cover the wrinkled area with a damp press cloth. If you use a silk organza press cloth, the transparent fabric allows you to see the underlying organza fabric and wrinkled area. Test pressing the sheer organza with the silk organza press cloth on a piece of fabric scrap. The bottom and top layers are made from the same fibers, so it's important to ensure the textiles do not meld together when applying heat, resulting in permanent damage.
Step 3
Glide the iron over the press cloth in an back-and-forth motion. Repeat this step in a side-to-side motion. Carefully lift the corner of your press cloth to see if the wrinkles have begun to disappear.
Step 4
Lift the press cloth and place it over the next set of wrinkles. Repeat for each section with wrinkles. Dampen your press cloth as needed. If you are working with deep, set-in creases, continue ironing until they're gone. Although this is a time-consuming process, the wrinkled creases eventually diminish and disappear.
References
Tips
Refer to your handheld steamer manual. Certain models recommend distilled water.
Writer Bio
Mercedes Valladares is the founder of M721Organics and has been an independent designer for over 15 years. Her work experience commenced during college with manufacturers based in New York and Hong Kong. Her education includes LIM College, International Fine Arts College and design certification from the Paris Fashion Institute. She produces eco-crafting videos and writes recycling articles online.
Photo Credits
Jupiterimages/liquidlibrary/Getty Images