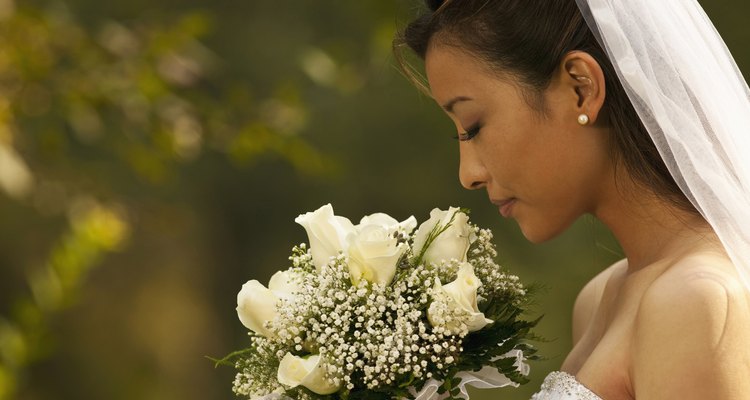 Comstock Images/Comstock/Getty Images
The finishing touch to any bridal ensemble is a traditional wedding veil. Veils are typically made of tulle and lace. These veils are quite pricey and can become wrinkled or creased if not hung properly. The process of steaming a veil will require 10 minutes, a steam machine, and a hanger. Learning how to steam a wedding veil properly will eliminate all unwanted wrinkles and ensure a picture-perfect appearance on your wedding day.
Unfold the veil and allow the full length to hang freely. Slide the uppermost 1/2 inch of the veil in between the two sides of the pants hanger, and snap shut.
Fill the steam machine with water according to the manufacturer's recommendations. Turn the machine on and wait until the water is fully heated. A steady flow of steam should appear when the machine is ready for use.
Aim the steam wand at the top portion of the veil 6 to 8 inches away from the material. Using circular motions, wave the steam over the veil and work out the wrinkles. Creases and folds will begin to disappear, and the material will appear flawless.
Steam from the top of the wedding veil working in 1-foot sections until the bottom of the veil is completed. The front and reverse sides of the veil may be steamed for optimum results.
Hang the veil in a location where the material is free of folds until it is to be worn. Steam the wedding veil again as necessary.
References
Writer Bio
Daniel Potter has a bachelor's degree in business administration with an emphasis in management as well as an associate's degree with an emphasis in English. Potter has written for Demand Studios since 2008 and several other private ventures. Potter prefers to write for eHow about all topics.
Photo Credits
Comstock Images/Comstock/Getty Images