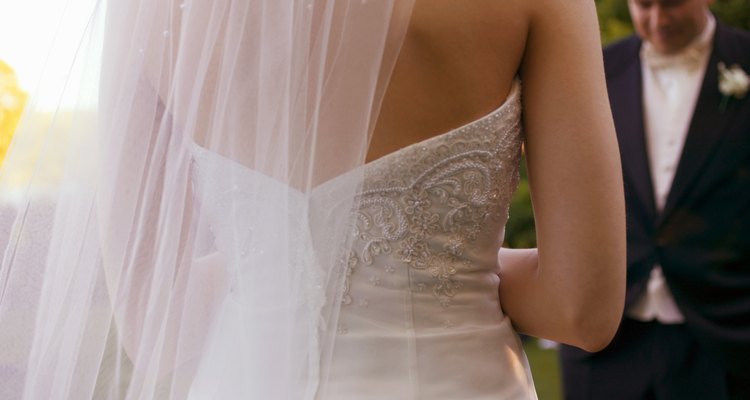 Jupiterimages/liquidlibrary/Getty Images
A wedding veil adds the finishing touch to your entire bridal look, and the variety of wedding veil options is endless. From the fabric to the style to the finishes, there is no end of options you can include in your veil. Wedding veils made of tulle fabric, no matter how light or heavy, are often finished with a delicate pencil-style edge. This type of edge is a thin, rolled hem all along the veil's outer edges. It can be done in the same color thread as the veil or in contrasting colors, providing an elegant finishing touch.
Cut the ends of your veil so that the edges are about an 1/4 inch longer than the finished length you want them to be. Ensure the edges are straight.
Thread your serger according to the directions in the owner's manual. Use the thread you want to appear on the edge of your veil.
Set your tension settings stitch lengths for a rolled hem, consulting your owner's manual for the specific settings for your machine. Lower your cutting blade, again consulting your owner's manual for instructions if necessary.
Pull the thread out of the back of the machine so there are thread tails of at least 5 inches. Lower the presser foot. Place your scrap veil fabric in front of the presser foot, lining it up with the "rolled hem" seam allowance guide on your machine. As you start to serge, the machine will automatically roll the fabric under, so you need to line the fabric up to this guideline.
Start serging slowly. Your scrap veil fabric will move under the presser foot and start making a rolled hem; the hem should be small and tightly rolled, so the stitches are very close together. If they are loose, adjust your tension settings until they are. Practice on your scrap fabric until you have a nice, tight rolled hem. When you do, remove your scrap fabric from the serger.
Serge your rolled hem on your veil, lining up the edge of the veil with the rolled hem seam allowance guide on your machine. Serge the entire edge. At the end of the edge, continue serging off the edges. Tie off your serged threads according the directions in your serger's owner's manual.
References
Writer Bio
Based in the Pacific Northwest, Arin Bodden started writing professionally in 2003. Her writing has been featured in "Northwest Boulevard" and "Mermaids." She received the Huston Medal in English in 2005. Bodden has a Master of Arts in English from Eastern Washington University. She currently teaches English composition and technical writing at the university level.
Photo Credits
Jupiterimages/liquidlibrary/Getty Images