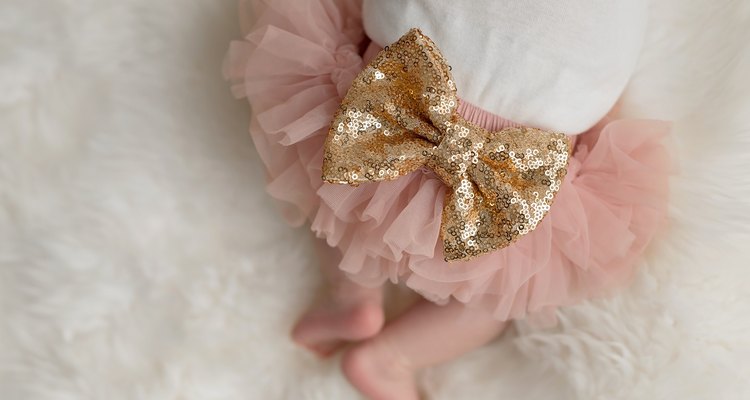 katrinaelena/iStock/GettyImages
Three Ways to Make Your Own Baby Tutus for Photos and Fun
Your baby might not be ready for her first ballet recital, but she can certainly dress the part by wearing a tutu. There's no reason to buy a baby tutu from a store; they're easy, quick and inexpensive to make, even with minimal sewing skills. The DIY approach also means you can customize the colors, size and poofiness of your tutu. Choose one of the following methods for making a baby tutu, and get ready for the adorableness to begin.
Sizing and Supplies
The key measurements for baby tutus are waist and length. You can measure your baby around her tummy and the length down to her knees for a custom fit, or use standard measurements. Don't worry too much about a perfect fit. For newborns, use a waist size of 14 inches and a length of 6 inches; for 0 to 3 months, a 15-inch waist and 7-inch length; for 3 to 6 months, a 16-inch waist and 8-inch length; and for 6 to 12 months, a 17-inch waist and 9-inch length.
The skirt part of a tutu is made using tulle, which is available in many colors in narrow rolls and by the yard (1 yard should be plenty). The fabric doesn't fray when it's cut, so don't have to hem or finish it along the edges. Sharp fabric scissors and a measuring tape are required. For the sewing method, you will need straight pins, a safety pin, sewing machine and thread that matches the tulle. For both methods, you can choose from narrow elastic or ribbon for the waistband. Fabric glue is needed if you're choosing the no-sew approach and opting for an elastic waistband.
Sewing Method
If you have even basic sewing skills and supplies, sewing a tutu from scratch is a relatively quick and easy project. Cut a length of tulle with a width equal to the desired tutu length, plus 2 inches, and a length equal to three to six times your baby's waist measurement. The longer the piece of tulle, the more poof the skirt will have. Simply fold over one long edge of the tulle by 1 inch, then another 1 inch. Pin and sew along the lower edge of the fold. This creates a tunnel of fabric, through which you thread a length of elastic cut to 1 inch longer than your baby's waist measurement, or a length of ribbon cut to 1.5 times the waist measurement. Attach a safety pin to one end of the ribbon or elastic and thread it through the tunnel. The tulle will gather as you thread the ribbon or elastic through, creating the classic tutu effect. If you're using elastic, overlap the ends and sew them together. With ribbon, you'll wrap the tutu around your baby's waist and tie the ends of the ribbon in a bow at her back or side. Sewing up the back seam is optional.
No-Sew Method
For the no-sew method, use 6-inch wide rolls of tulle or cut yardage into strips of a similar width. With an elastic waist, cut a piece of elastic to 1 inch longer than the waist measurement; overlap the ends by 1 inch and secure them together with fabric glue. If you're willing to make an exception to the no-sew approach, a few stitches are a better option. For a ribbon (tied) waist, cut a length of ribbon 1.5 times the waist measurement. Cut a few dozen strips of tulle that are double the desired tutu length measurement.
To assemble the tutu, fold the lengths of tulle in half at their mid-point, width-wise; place the fold/loop behind the elastic or ribbon; pass the two ends of the tulle through the loop; and pull, trapping the elastic or ribbon inside the resulting knot. Repeat the process with more and more tulle strips, scrunching them together as you work, until the tutu is as full as you desire. With a ribbon waist, wrap the ribbon around your baby's tummy and tie the ends into a bow at her back or side.
References
Writer Bio
Joanne Thomas has worked as a writer and editor for print and online publications since 2004. Her writing specialties include relationships, entertainment and food, and she has penned pieces about subjects from social media tools for Adobe to artists' biographies for StubHub. Thomas has also written for such names as Disney, Hyundai, Michelob and USA Today, among others. She resides in California and holds a bachelor's degree in politics from the University of Bristol, U.K.