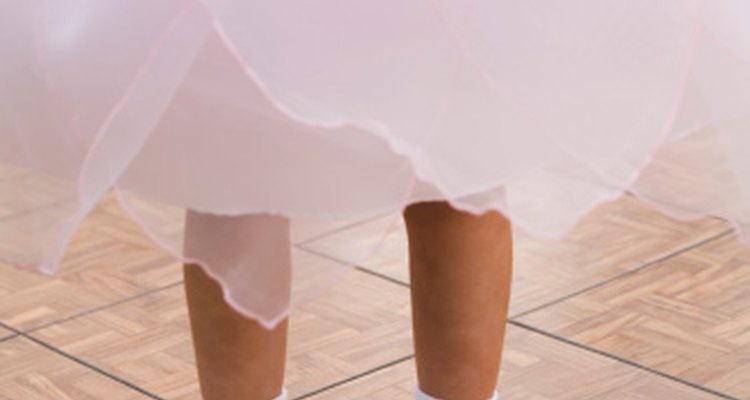 Jupiterimages/Brand X Pictures/Getty Images
Tulle was invented in the early 1700s in the city of Tulle, France. The silky-soft, net-like material, usually made from nylon, is used for making veils and dresses and became increasingly popular in the 1800s. Ballerina Marie Taglioni wore tulle tutus during performances and Queen Victoria wore tulle wedding attire in 1840. In the early 2000s, parents began photographing their newborn baby girls in tulle tutus. Older girls can enjoy the fabric as well, inside and out the dance studio. Puffy tulle dresses are a simple but cute addition to any wardrobe.
Measure the child around her chest, under her arms.
Cut a piece of 1/4-inch elastic to that measurement. Burn the ends of the elastic with a flame to keep it from fraying, taking care not to catch the elastic on fire.
Sew the two ends of the elastic together, overlapping the edges 1/4 inch. Make small stitches and sew the elastic until it is securely fastened. Set this aside.
Measure the child from her chest to where you would like the edges of the puffy tulle dress to fall.
Cut 100 strips of tulle double the length you just measured.
Tie the tulle strips around the sewn elastic band, keeping the ends even and getting as many strips around the elastic band as possible.
Cut 2 yards of white satin ribbon, and tie one of the strips onto the elastic band in one spot, similar to how you tied the tulle strips.
Slip the dress on the child from her feet, sliding it up her body to her underarms. The satin ribbon you tied onto the elastic should be in the front, under the child's chin. Tie the satin ribbon on the elastic band around her neck, in a halter top fashion. Tie the second white satin ribbon around her waist, finishing with a bow in the back. If needed, trim the bottom of your puffy tulle dress so that it is even.
References
Writer Bio
Joanie Reeder is a professional writer, editor and photographer with more than 10 years of experience in the news industry. Published works have appeared within the Associated Press, the "Salisbury Post" and the "Kannapolis Citizen." She holds a Bachelor of Arts from Catawba College in Salisbury, N.C., with a concentration in mass media and journalism.
Photo Credits
Jupiterimages/Brand X Pictures/Getty Images