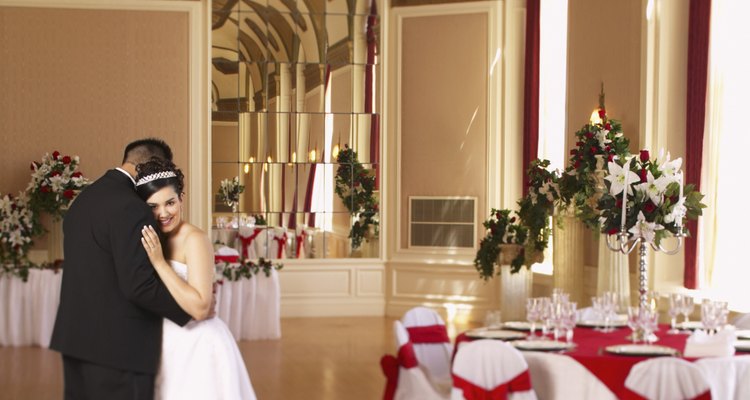 Creatas/Creatas/Getty Images
You can decorate chairs at your wedding reception with chair covers and sashes to hide imperfections and make them appealing. Whether you are dissatisfied with the style of the chairs or are keen to match the chairs with the color of your wedding theme, you can easily make wedding chair covers and sashes yourself. Choose from a variety of materials and colors to personalize the chair covers and sashes with your unique taste or wedding theme.
Take the measurements of the chair with a tape measure to estimate the quantity of the material you will need for the cover. Measure the width of the chair and the length, from the front top of the chair to the front legs and from the back top of the chair to the back legs. Total the front and back measurements and add three inches extra to the width to account for securing the material together on the chair.
Purchase material of your choice, such as satin, damask, organza, cotton or muslin, according to the measurements that you took for the chair cover. Place the material over the chair, such that it covers the entire chair. Ensure that the color of the material blends with the color of your wedding theme if you have one.
Gather loose hanging material from the both the sides of the chair and pin it in place at the back of the chair. You can either hand stitch the sides in place or use a safety pin to attach the loose ends of the material together.
Cut wide strips of tulle or taffeta in double the length of the width of the chair's backrest to prepare the sash. Wrap the tulle sash around the backrest and tie it into a neat knot or bow at the back of the chair.
Pin a flower in the center of the knot or bow for a touch of class. You can use a silk flower or fresh flower.