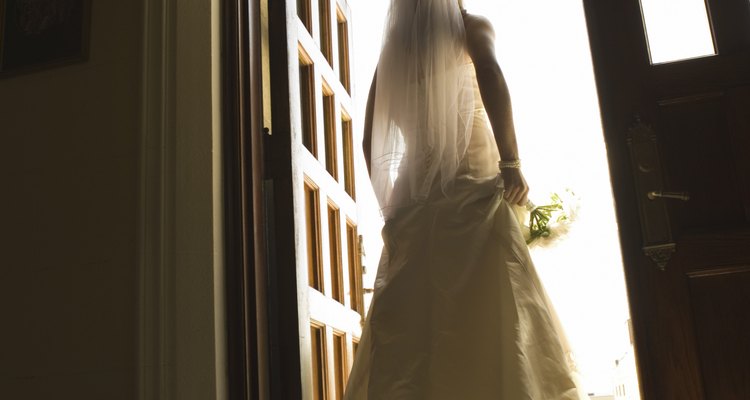 Jupiterimages/Comstock/Getty Images
Many brides like to incorporate trains on their wedding dress. If your perfect wedding dress does not include a train, you can make a detachable train. Detachable trains are also convenient because you can remove the long train during your reception, preventing it from becoming dirty or ruined. Whether you choose a shorter train, such as the court length, or a longer royal train, many fabric shops offer patterns to help you embellish your wedding dress.
Purchase a pattern for a detachable train. Ensure that your pattern is the length you want. Trains are available in various lengths and styles.
Buy the supplies you need according to the pattern. You will need material that matches your wedding gown. You will also need a way to attach the train to the back of your wedding dress, such as satin buttons or loops. If you choose to use snaps, hide them under lace or a bow.
Attach the buttons or loops to the back of your wedding dress. Cut out the material according to the pattern to make your train. Add loops or buttons to your train. Place them to match the attachments on the dress.
Decorate your train with lace, tulle or any other embellishments that you choose. Try on your dress with the train so that you can make adjustments as necessary.
Writer Bio
Ireland Wolfe has been writing professionally since 2009, contributing to Toonari Post, Africana Online and Winzer Insurance. She obtained her Bachelor of Arts in psychology and Master of Arts in mental health counseling. She is also a licensed mental health counselor, registered nutritionist and yoga teacher.
Photo Credits
Jupiterimages/Comstock/Getty Images