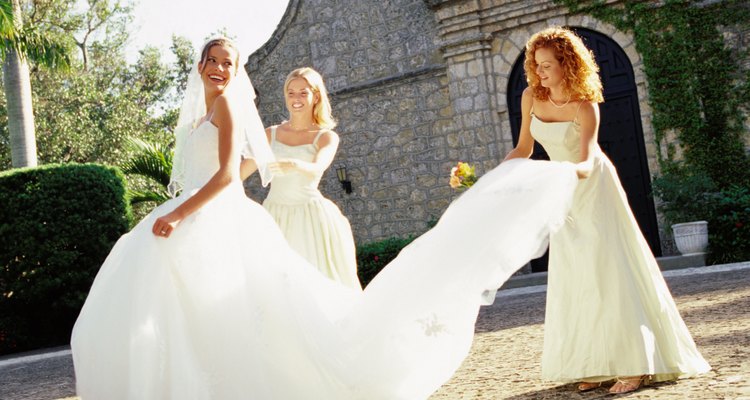 Stockbyte/Stockbyte/Getty Images
Bustling a wedding dress is the most common way to pull the train up off the floor, allowing the bride freedom of movement at her reception without the guests stepping on her dress. While most dresses have built-in "riggings"--buttons, elastic loops or snaps--that allow you to gather up the material, even a non-sewing novice can make a French bustle by following a few steps to prepare the train.
Display the dress on a mannequin or model it. Measure the length of the dress from the waistline to the floor, and mark this on the train with a pin or the sewing pencil.
Lift the train at the pin mark, and hold it up against the waistline at the center of the back of the dress. This is your first fold--adjust it so that the train is 1/2 inch to 3/4 inch off of the floor. Pin it to the waistline seam.
Pull up one side of the train, fold it and pin it at the waist so that the train is off the floor 1/2 inch to 3/4 inch. Repeat on the other side. This should lift the train completely off the floor, but if an additional fold is required on each side for uniformity, make the required folds and pin them in place.
Release the train after marking each fold spot with a pin or the sewing pencil. Using the needle and thread, hand stitch the cut ribbons to the waistline where marked, between the skirt and the train. Make sure the ribbons are sewn securely into the waistline seam.
Fold a 2 1/2-inch piece of ribbon in half, and stitch it securely to the underside of the train in a loop, approximately 1/2 inch below the pin mark at the waist. Repeat this for each mark on the dress where a train fold will be made.
Practice making the bustle by pulling the train up and securing the longer ribbons at the waist through the corresponding loops underneath the train. Secure each ribbon with a double bow so that they do not come untied easily. Adjust the outside folds of fabric to achieve the desired look.
References
Writer Bio
Lori Lapierre holds a Bachelor of Arts and Science in public relations/communications. For 17 years, she worked for a Fortune 500 company before purchasing a business and starting a family. She is a regular freelancer for "Living Light News," an award-winning national publication. Her past writing experience includes school news reporting, church drama, in-house business articles and a self-published mystery, "Duty Free Murder."
Photo Credits
Stockbyte/Stockbyte/Getty Images