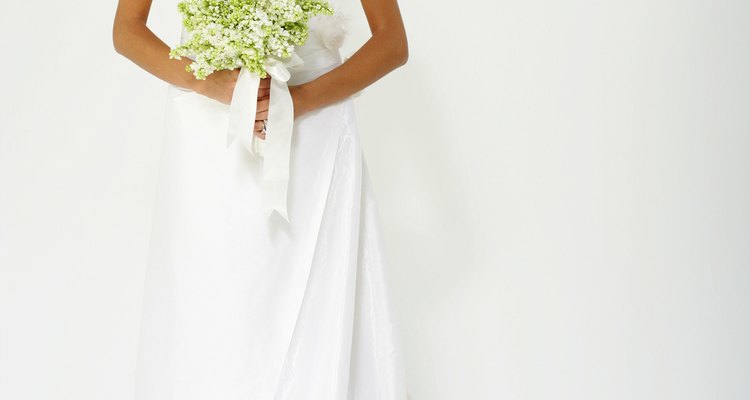 Goodshoot/Goodshoot/Getty Images
Many brides want a dress with a long, beautiful train for their wedding ceremony. However, they also want a natural-looking way to keep it off the floor and out of the way during the reception. The ballroom bustle is a version of the traditional bustle that transforms the wedding gown into a ball gown. If the bustle is done correctly, the dress almost appears as if it has no train at all.
Take hold of the middle of the train of the dress and lift it until it is even with the hemline. This is best done when the dress is on the bride.
Use pins to mark six points across the bottom of the bodice of the dress where you will sew buttons to hold the train up. If the hem of the train is curved, your button markings will be in a "U" shape. If the hem is straight, the markings will be straight across the bottom of the bodice.
Mark six points with pins on the train where the train meets the button points. Your markings will follow the same pattern as the button markings (curved if the hem of the train is curved, straight if the hem is straight).
Sew white buttons at each of the button points.
Sew loops of thread at each of the six points on the train. Bring your threaded needle up from under the train, leaving a 2-inch tail under the train. Push the needle back down through the train until you have a small loop of thread remaining on top of the train. Tie the two pieces of thread under the train in a knot.
Hook the loops of thread over the buttons to bustle the dress. Spread the skirt at the hemline. The bustle should make the skirt look full and flowing in the back, but the bottom of the train should be even with the hemline of the skirt.
References
Writer Bio
Lora Mortier has dabbled in writing since she was a teenager. She was home-schooled through high school and then attended University of Wisconsin - Fond du Lac for two semesters. She began writing professionally in 2007 and takes her writing inspiration from her everyday life. She writes about home, gardening, parenthood, and saving money on her blogs, Motherhood Moments and Screaming Pennies.
Photo Credits
Goodshoot/Goodshoot/Getty Images