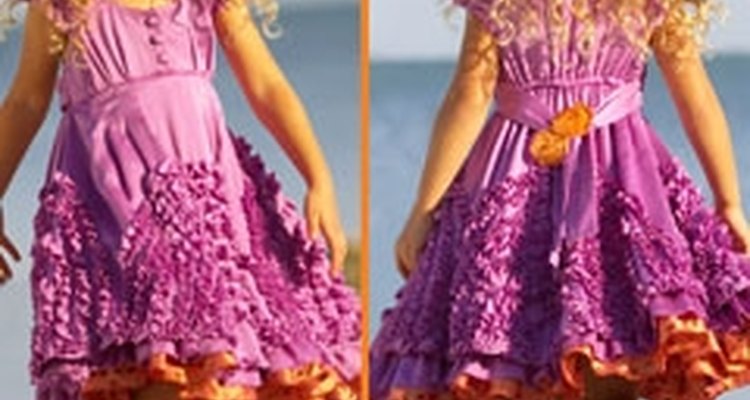 http://www.chasing-fireflies.com/images/23651_p.jpg
Twirly skirts are every little girl's dream. They are perfect for summertime, and a great sewing project for beginners. The following steps will show you how to make a twirly skirt for your favorite little girl.
Use your measuring tape to take the child's waist measurements. Be sure to determine the exact length you would like the finished skirt to be - typically 12 inches, but can vary depending on child's height.
Cut the yard of fabric into two equal pieces. If you are making a skirt with a length of 12 inches, add 3 extra inches for the elastic casing. Thus, you should have two 15-inch strips of fabric measuring the original width of the fabric (usually about 42 inches).
Using your sewing machine, or needle and thread, sew the shorter ends of the two pieces together. Trim the edges with pinking shears to prevent fraying, and iron the seams open. You should have the basic structure of the skirt at this point.
Sew the casing for the elastic. Fold the upper edge of the skirt about 1/4 inch, and then 1 full inch. Sew it close to the edge, but leave about 1 1/2 inch opening for the elastic to be pushed through. Next, sew the hem of the skirt by folding it 1/4 inch and then 3/4 inch.
Push the elastic through the opening and secure it by sewing over it a few times. Finally, trim any loose threads and it's ready to be worn.
Writer Bio
Maggie Hira has been writing professionally since 2006. She has written for numerous websites and print publications, including "LA.Direct Magazine" and The Budget Fashionista. Hira holds a Bachelor of Arts in English from the University of California, Los Angeles.
Photo Credits
http://www.chasing-fireflies.com/images/23651_p.jpg