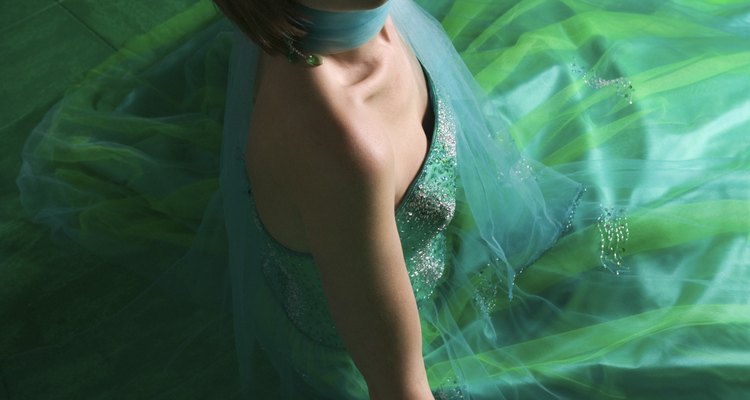 Thinkstock/Comstock/Getty Images
Floaty, feminine chiffon fabric, found in dresses, scarves, lingerie and blouses, can see a great deal of wear in a woman's wardrobe. Twisted crepe yarn, woven into a plain balanced weave, creates chiffon's beautiful but delicate texture whether silk, cotton or polyester. Basic care for this sheer, lightweight material involves keeping it wrinkle-free, but most basic ironing techniques often cause irreversible damage. Regardless of fiber content, this easily crushed fabric cannot take direct high heat or direct steam.
Step 1
Set the iron to a warm, not hot, setting with no steam.
Step 2
Spread the chiffon dress over the ironing board in a single layer. Move any lining fabric out of the way.
Step 3
Cover the chiffon with a clean white towel or white cloth.
Step 4
Iron over the towel for no more than 30 seconds. Remove the iron quickly and check the fabric. Repeat as necessary.
Step 5
Turn the shower to a hot setting and close the bathroom door to create a steam room for stubborn wrinkles. Once steam fills the room, turn off the water and hang the dress in the bathroom until the steam dissipates.
Step 6
Cover large stubborn creases with a clean white towel. Fill the water tank of a garment steamer and set it on low. Hold the nozzle several inches from the dress and steam the covered area for several minutes.
Step 7
Smooth out the creases by hand and steam them again. Let the dress air dry before wearing or storing.
References
Sewing Smart with Fabric; Jeanne Stauffer
Sew Any Fabric: A Quick Reference to Fabrics from A to Z; Claire Shaeffer
Your Day, Your Way: The Essential Handbook for the 21st-Century Bride; Sharon Naylor, Michelle Roth and Henry Roth
eBay Timesaving Techniques for Dummies; Marsha Collier
Warnings
Never let water touch the dress as droplets can create permanent spots in chiffon.
Do not stretch the fabric while ironing because the fibers will hold the stretch.
Writer Bio
A writer with a Bachelor of Science in English and secondary education, but also an interest in all things beautiful, Melissa J. Bell has handed out beauty and fashion advice since she could talk -- and for the last six years, write for online publications like Daily Glow and SheBudgets.
Photo Credits
Thinkstock/Comstock/Getty Images