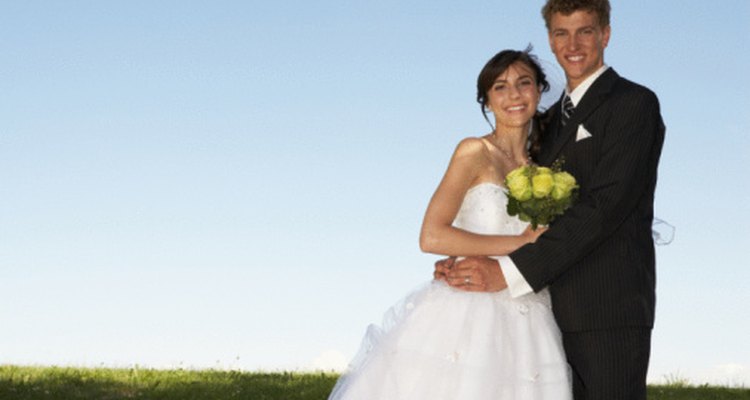 Jupiterimages/Photos.com/Getty Images
wedding dresses can be divided into several different basic types. These include hourglass, A-line, mermaid or fishtail, sheath, empire waist, ball gown and an informal choice such as a suit. Each particular type of gown has advantages and disadvantages. Some dress types are more suited for formal occasions while others may seem more appropriate in a less conventional setting.
Hourglass
An hourglass dress resembles an hourglass. The gown will typically have a defined top, narrow waist and full middle. Hourglass gowns can be heavily embroidered or plain and simple. An hourglass dress is a good choice for the bride who has an archetypal female shape. If you have a large bust, thin waist and traditional hips, this can be an excellent choice to show off your pleasant curves.
A-Line
An A-line dress is another very classic silhouette. This type of dress, as implied by the name, resembles the letter "A." An A-line dress typically has a tapered top, sloped waist and flared skirt. A-line dresses tend to flatter women who have figures that are heavier in the hips and waist.
Mermaid or Fishtail
Mermaid dresses are dresses that mimic the shape of a mermaid. They are typically very fitted on top and then widen out at the knees. Fishtail dresses are the same shape but often have a trailing train. This type of dress is a good idea if you have a small bust and small waist. They can also make petite women look taller by focusing the eye on their overall line.
Sheaths
Sheath dresses are generally very closely fitted dresses with hems that traditionally end just above the knee. Sheaths are usually made of very simple materials. The shape is intended to show off a woman's figure without extraneous detail. A sheath is a very good choice for a bride who wishes to accentuate her long legs or slim hips.
Empire Waist
An empire-waist dress is a dress tightly fitted around the bust line. The rest of the bodice falls straight. Empire-waist dresses have been a popular choice for centuries. The empire waist dress is a good choice for a bride with a smaller bust. The dividing line in the fabric creates the illusion of a larger chest. Empire-waist dresses are also fine choices for brides with less than perfect hips. The straight line makes one's figure appear thinner.
Suits
A suit is usually a matched ensemble composed of a shirt and a pair of pants or a skirt with a coordinating jacket. Suits can be made of cotton or more formal materials such as satin. A suit is a good choice for a bride as part of a more informal wedding. Suits can also be ideal for the second-time-around bride.
Photo Credits
Jupiterimages/Photos.com/Getty Images