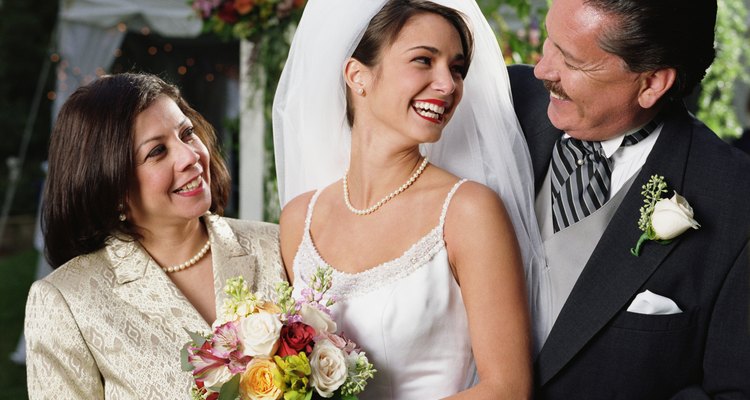 Stewart Cohen/Blend Images/Getty Images
Traditionally, the bride's parents paid for most of the wedding expenses, including the stationery, the wedding gown, the ceremony, the photographer and the reception. Since the wedding itself is almost a gift to the couple, some brides and their parents may wonder if an additional gift is also required. According to wedding etiquette, gifts are not required from the bride's parents.
Wedding Gifts Are Not Required
Although all brides and grooms hope to receive some thoughtful and useful wedding gifts, those gifts are not requirements. In fact, couples who include their gift registry information with their wedding invitations are breaking etiquette rules since doing so implies the expectation of a gift from the guests. Since no guest is required to bring gifts for the couple, no expectation for the bride's parents to give a gift exists either.
Optional Gift Giving
Although not required, many brides' parents opt to give the couple a wedding gift, especially since many parents are paying a smaller portion of the wedding costs than they did traditionally. For parents who want to give a gift, but whose funds have been depleted by wedding expenses, thoughtful presents are sometimes more appreciated than extravagant gifts. A photo album full of copies of cherished family photos or a piece of cookware or furniture that has been passed down for several generations is an example.
References
Writer Bio
Amy Jorgensen has ghostwritten more than 100 articles and books on raising and training animals. She is also an amateur dog trainer. She has also written more than 200 blog posts, articles, and ebooks on wedding and party planning on behalf of professionals in the field.
Photo Credits
Stewart Cohen/Blend Images/Getty Images