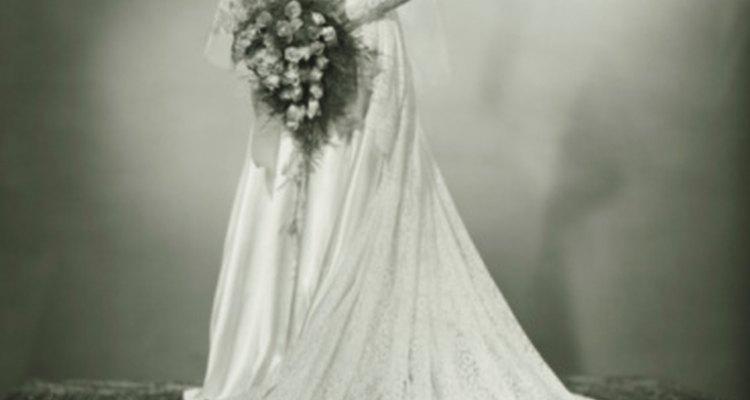 George Marks/Retrofile/Getty Images
A bride's wedding dress is one of the most important elements that go into creating the perfect Big Day. Styles of dresses change from decade to decade, giving each 10-year span a distinctive look and tone that distinguishes it from another. Wedding dresses have a long history of evolution, but the color white has been favored since 1840, when Queen Victoria of England married Prince Albert of Saxe-Cobourg.
The 1920s
The Roaring Twenties were "a pinnacle point in history, when overly formal garments were cast aside and fashion entered the modern front," according to Project Wedding. This was also the decade of flappers and the beginning of female rebellion. The typical style of the decade featured a dropped waist and unshaped bodice, along with a headdress worn low over the brow to resemble the cloche hat women wore then. The length was typically long, but the neckline varied.
The 1930s
Fashion was not as important during the Thirties, as the Great Depression was in full swing and money was often tight. A bride might wear fashions from the previous decade on her wedding day, though some style changes began to emerge. The waist was raised to normal proportions and necklines dropped. Wedding dress hemlines grazed the floor and the female form was once again emphasized. This trend was "more pronounced as the decade wore on, with the introduction of bias cut gowns that hugged the female figure," says Elizabeth Davies of Dress Finder.
The 1940s
With World War II raging on during the first half of the Forties, cloth was in short supply, expensive and hard to come by. This is the one decade in modern fashion in which brides did not always wear white wedding dresses. If the bride was lucky enough to wear white, the style was often sleek, with a cowl neckline and long sleeves. Toward the end of the decade, fuller skirts were the trend, as fabric was no longer in short supply, with wide shoulders and a sweetheart neckline.
Vintage Style
The Fifties embraced ultra-feminine wedding dresses with modest cuts and brides going crazy for lace after restrictions on fabric were lifted, according to TLC. The Sixties saw some short hemlines, bubble sheaths and eventually the A-shape. The Seventies saw a more relaxed style and an abundance of flowers, with more and more weddings being held outdoors. However, the 1920s, 1930s and 1940s are the decades exemplifying classic vintage style. Modern brides draw their inspiration from these decades when looking for, or even designing, their own vintage wedding dress.
References
Writer Bio
Robina Sharma has been an online editor and writer since 2007. Her writing has appeared in "Crow Toes Quarterly," "Education Canada" and on style.ca. She holds a Bachelor of Arts in English and sociology from the University of Toronto.
Photo Credits
George Marks/Retrofile/Getty Images