The 1970s was a transition decade; it started out much as the 1960s, with a mix of fashions varying from very bohemian to somewhat traditional. By the end of the decade, however, the newer trends, including man-made fibers, heralded the change to materialism that characterized the 1980s. Wedding styles echoed the changes in society, and while there is always room for the ball gown, there were also some unique styles in this fascinating decade.
The Wedding Dress and its Basic Choices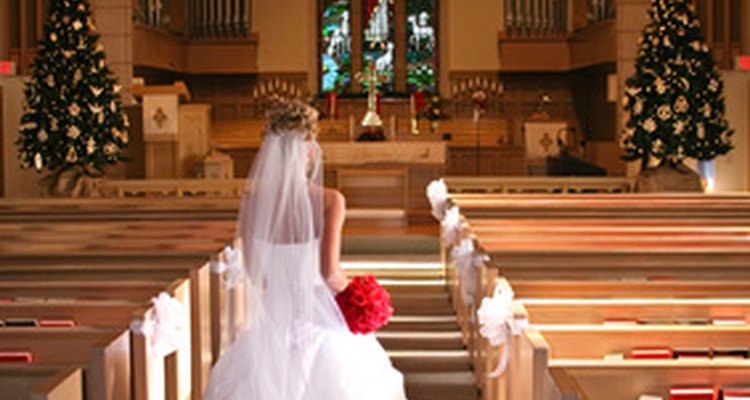 beautiful wedding gown image by Paul Retherford from
Fotolia.com
Wedding dresses use the best natural fabrics -- cotton, silk, satin, chiffon and net -- as well as high quality, man-made fibers. Depending on the formality of the wedding, lengths can vary from floor length or tea length up to knee length or above. Long skirts can be very full, slightly full, narrow, fishtail and draping. Though some styles are timeless, in each decade one style tends to predominate (probably because a celebrity chose it ) and the basic catalog will reflect trends in modifications to other styles. In the end, however, wedding dresses are like brides: there are no typical ones. A perfectly modern '70s miss may have picked an antebellum ball gown -- one of the timeless styles -- over a modern A line tent dress, because she always dreamed of being Scarlett O'Hara.
1970 to 1973, Looking Backward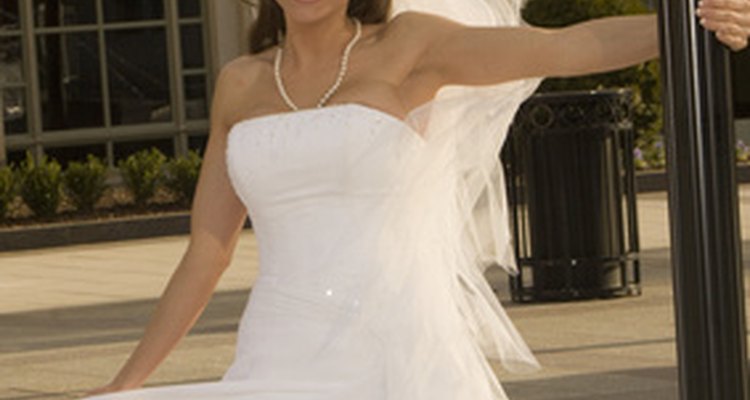 Behavior doesn't change overnight, and many people in 1969 were baby boomers just emerging into adulthood.They preferred the loose muslin dresses, short styles and truly informal weddings, which characterized the hippie movement. Brides often chose Mexican wedding dresses for their light muslin fabric and white color -- evoking innocence -- as well as their low cost. Mini dresses with extra glitter, and shift or slip dresses also showed up. Colored gowns made a come back, and flapper dresses with beads were also popular, reflecting back to another wild era. New sleeve styles also appeared; the Camelot sleeve was popular on formal gowns.
1974 to 1976, Modern Designs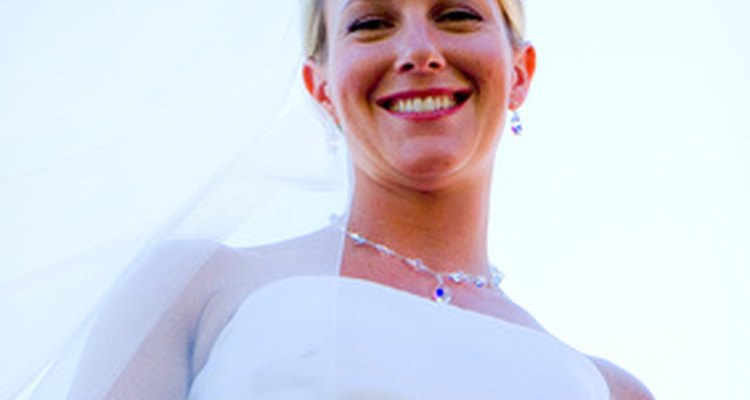 Some uniquely modern styles emerged in the middle part of the era. Column dresses made of heavy satin, with false turtle necks and unstructured bodices, reflected the fashion of the day. Tube tops were in, and new fabrics appeared that made cotton, lace and even muslin look stiff and uncomfortable. Spaghetti strapped dresses were popular, too. Wedding dresses featured strapless tops and flowing skirts. There were fewer short dresses, which had been quite popular. Brides even wore long skirts at informal weddings, and bridesmaids chose their own dresses, with the bride merely dictating the color or the basic style.
1975-1977, Truly '70s fashion
The invention of fine man-made jersey fabrics like Qiana appeared in mid decade, and the disco set instantaneously accepted them. Dressmakers also loved the fabric. It draped beautifully and had body, but was light and flowing; it clung to the body, but not too tightly, and it was sexy.The skirts often had handkerchief hems, and high-heeled fancy sandals reappeared. Though formal weddings and formal brides still existed, the trend was clearly to create a unique style, often custom created by the bride, her mom and the dressmaker. Some brave brides wore white pant suits and even "hot-pant" suits, though many were hidden under a skirt, or half skirt, until the reception.
1978 and 1979, Looking Forward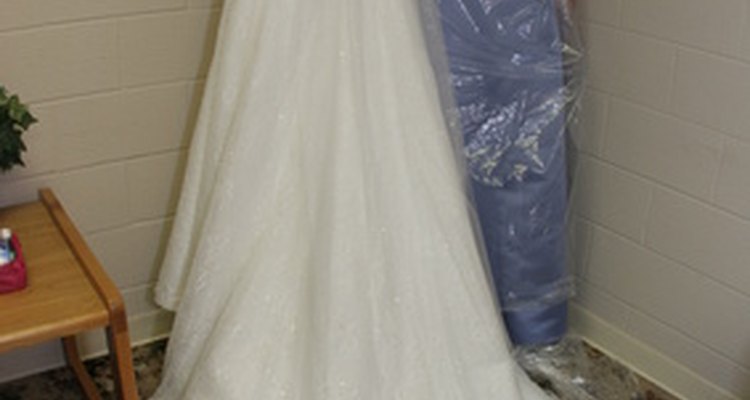 wedding gown dress white hanging shoe image by Paul Retherford from
Fotolia.com
As the decade wound down, designer fashion moved to the forefront. Celebrities wore couture dresses for their weddings. Specific wedding designers had always existed, but now they produced off-the-rack dresses. Brides wore gowns by top designers -- or their knockoffs. With growing conservatism, brides returned to Grecian styles and ball gowns were popular again, as well as lace and silk and satin. Early '70s gowns had high necks and long sleeves, while late '70s dresses featured bustiers showing cleavage. Lace appliqués, beads and sequins were reintroduced -- sumptuousness would characterize the decade to come.
References
Writer Bio
Lorraine Rock has worked as a writer since 1978. She is a certified medical technologist with a Master of Health Administration and a Bachelor of Arts in English literature and journalism, as well as several health related diplomas. Rock has worked in health disciplines including laboratory medicine, anesthesia and pharmacy.
Photo Credits