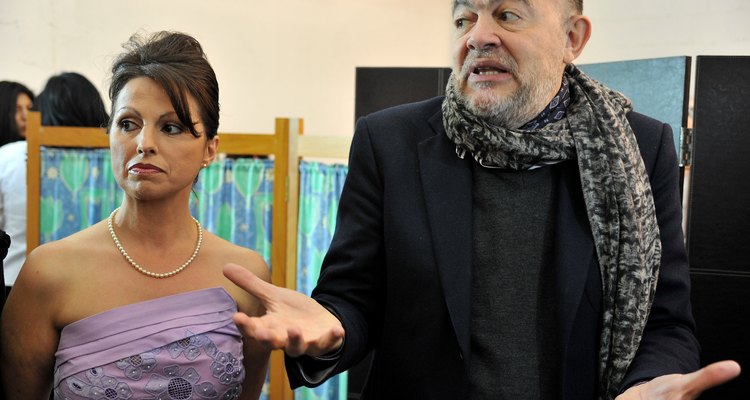 Pascal Le Segretain/Getty Images Entertainment/Getty Images
Many people skip the 1980s when naming great eras in fashion. The over-the-top looks of that decade are definitely memorable, but aren't often remembered with the fondness of the glamorous fashions of the 1940s or '50s. The '80s did, however, give birth to the careers of many influential fashion designers. Several French designers were in their heydays in the '80s, making it a decade of unforgettable styles.
Underwear as Outerwear
Jean Paul Gaultier is credited with bringing women's undergarments into the open as clothing in the 1980s. He designed figure-hugging corsets made from every conceivable fabric, from leather to lace, to be worn as shirts. Women went crazy for them. Madonna made the look one of the hottest trends for '80s rocker chicks. These updated corsets were more comfortable than their boned predecessors. Many had wire stays that bent and moved with women, and they hooked in the back instead of requiring tight lacing.
Puffy Skirts
Short, full skirts were a huge trend in the '80s and Christian Lacroix was a pioneer of this look. Lacroix created knee-length tiers of layered taffeta or satin that resembled wedding cakes as much as skirts. He also designed pleated, full skirts that ended above the knee with layers of multicolored tulle built into them for fullness. Celebrities such as Cyndi Lauper helped make these whimsical skirts trendy. Lacroix often paired the skirts with fitted, waist-length jackets to highlight the waist and offset the fullness of the skirt.
Triangular Shapes
French designer Thierry Mugler shook up the fashion world in the '80s by blending the boxy suit-jacket look from 1940s Hollywood with futuristic angles and lines. He made full use of the shoulder pad craze, creating jackets and dresses with triangular shapes featuring outrageously wide, often pointed shoulders and extremely tapered waists. He also designed dresses with wide, puffy shoulders and then added embellishments or darts to make the dress point out wide again at the hips. He often placed a V shape at the waist to narrow it, making the angles even more extreme.
Fabrics and Embellishments
The French designers of the '80s were not afraid of bold colors or opulent fabrics. They combined cottons, silks and rayon with silver or gold lamé, lace or tulle to create the glamorous gowns worn by fashion icons such as Princess Diana or First Lady Nancy Reagan. Designers like Gaultier, Lacroix and Mugler, as well as others such as Azzedine Alaia, made use of a wide range of materials, from leather and Lycra, and embellished their garments with tons of sequins and beads.
References
Photo Credits
Pascal Le Segretain/Getty Images Entertainment/Getty Images