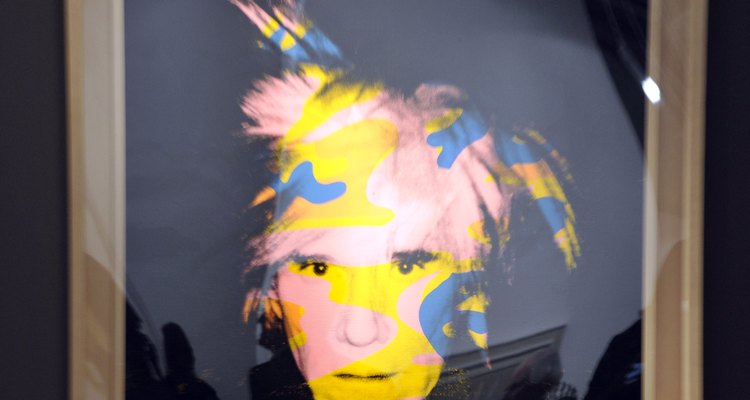 Harold Cunningham/Getty Images Entertainment/Getty Images
Andy Warhol's artistic career was intricately tied to fashion, from his early clothing ads in the 1950s to his decades-long friendship with the legendary designer known as Halston. For all the over-the-top color and verve of his signature pop art, Warhol's wardrobe was a fairly subdued affair; he often stuck to preppy, all-American duds accented with an occasional -- and carefully chosen -- burst of eccentricity.
Warhol Up Top
Few articles of clothing define Andy Warhol's iconic look better than a simple black turtleneck or a horizontally striped long-sleeved tee, with either bold or thin stripes. Especially in his younger years, Warhol sported these tops solo or with an outer layer, such as a lightweight, high-collared black leather jacket. He also was spotted in suede or lightly textured vests or a navy blazer -- a piece that would become his signature later in life. Through the '70s and '80s, Warhol adopted a schoolboy style that served as a consistent uniform. To emulate this look, go with a navy blazer and neutral-hued gingham button-up for the base of the outfit, worn loosely and with a sense of casual nonchalance.
Basic Bottoms
Much like his upper half, Andy Warhol's trousers reflected the simple Americana that his art wildly amplified. Skinny jeans in black or other dark and neutral washes fit the bill, as did chinos in subdued hues. Throughout his life, Warhol sported Levi's 501 jeans, perhaps a nod to his fascination with American commercialism. To pair with the latter-day Brooks Brothers-inspired look, choose similar regular-cut jeans or wool trousers with just a bit of texture -- think a herringbone or glen-plaid pattern. Leather loafers accent this more conservative look while Cuban-heeled boots set off the edgier Warhol-inspired ensembles.
Andy's Accessories
Even if you don't sport a frayed blonde wig, you can pay homage to Warhol's aesthetic with his other iconic accessory: bold-framed glasses. Whether you go with prescription specs or sunglasses, stick with thick frames with a bit of curve in the classic Wayfarer style. Warhol typically wore transparent tortoise-shell frames for his eyeglasses and dark black lenses in his sunglasses. He often accented his blazer-based ensemble with a floppy, butterfly-style bow tie or a conservative necktie; patterns varied from solid to diagonally striped or with a simple geometric pattern. As a very idiosyncratic flourish, Warhol wore a Polaroid camera around his neck as both a fashion accessory and a functional item.
More to Consider
In addition to emulating Andy Warhol's signature style, you can conjure up his essence by seeking styles influenced by his art. Many modern clothing lines feature screen-printed tees, dresses and bags with images of his art, from his Campbell's soup can to "Marilyn Diptych," his colorful portrait of Marilyn Monroe. Much of Andy's style -- such as his turtlenecks, striped shirts and glasses -- lends itself to unisex wear. For a more feminine look that derives from Warhol's aesthetic, short hems, bold black-and-white patterns, smoky eye makeup and chunky jewelry homage the style of his most famous muse, Edie Sedgwick.
References
Writer Bio
With a diverse professional background and a decade of experience as a freelance writer, Dan has contributed lifestyle content -- from fashion to travel to fitness and more -- to publishers including Chron, Fortune, Sony, GlobalPost, ModernMom, Moviefone, Salon.com, Techwalla and dozens of others.
Photo Credits
Harold Cunningham/Getty Images Entertainment/Getty Images