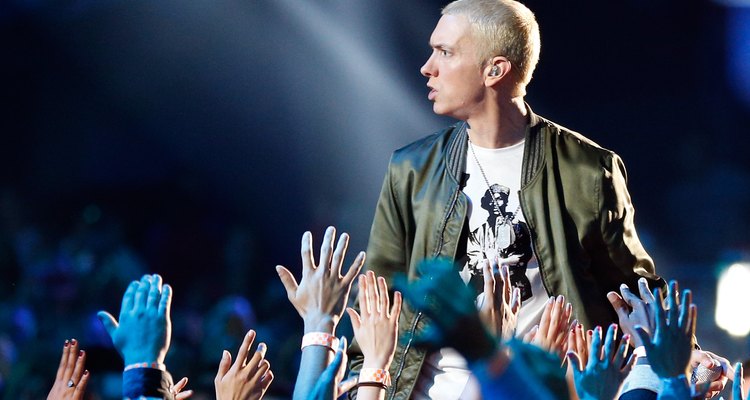 Christopher Polk/Getty Images Entertainment/Getty Images
In 1999, Eminem released his first record, "The Slim Shady EP," and first single, "My Name Is." Both were instant hits, and a new hip-hop icon was created. Eminem, whose real name is Marshall Mathers, brought not only a fierce, eloquent, rapid-fire lyrical style to his songs, he also brought an understated but precise personal fashion sense to the stage. Eminem's style is casual without being sloppy, fresh but not flashy.
Hair and Headgear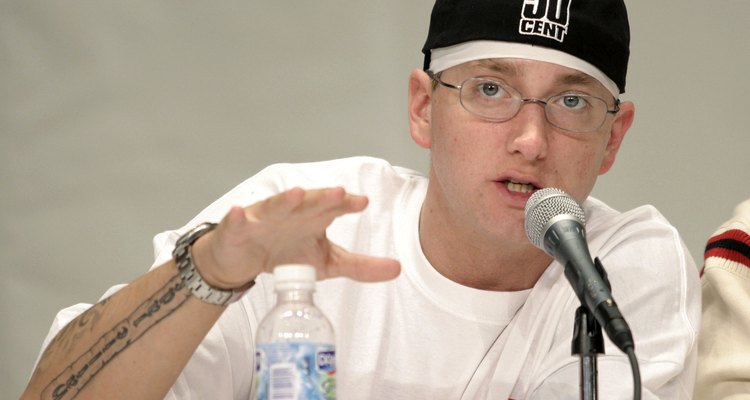 Bill Pugliano/Getty Images Entertainment/Getty Images
For most of his career, Eminem kept his hair close-cropped and bleached blonde. Nowadays, in 2014, he's dropped the bleach but kept the short cut. Eminem often wears a hat as well. Sometimes he chooses a simple baseball cap -- worn forward or backward. Other times he sports a black knit cap. He has also been seen in Kangol military-style caps and bucket hats.
Hoodies and Tees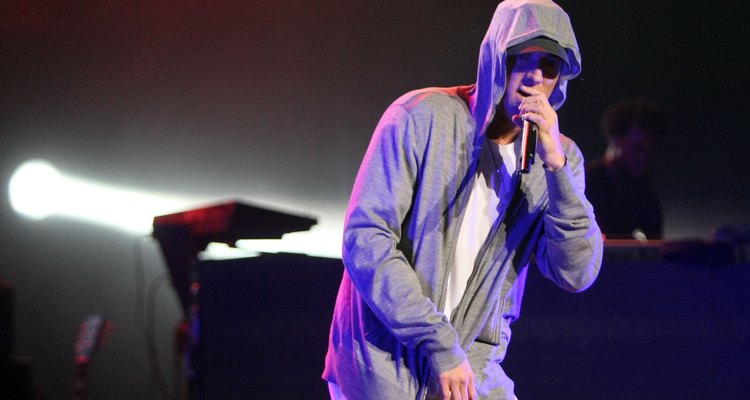 Kristian Dowling/Getty Images Entertainment/Getty Images
In his early days, Eminem often appeared in public in a black or gray zip-up hoodie, and even performed onstage in it. In fact, it practically became his signature style item. His fashion sense has evolved to encompass other outerwear as well, including track jackets and tailored leather jackets. You can layer any of these over a hoodie for warmth if needed. Underneath the outerwear, Eminem often wears a simple white or black T-shirt; a sleeveless white tank top is also a wardrobe standard of his.
Bagging It
Below the waist, Eminem favors a wide range of casual pants. Track pants, baggy jeans, cargo shorts and sweats have all found a spot in his repertoire. The key is the baggy silhouette -- Eminem hardly ever wears structured, tailored or slim pants.
Shoe Selection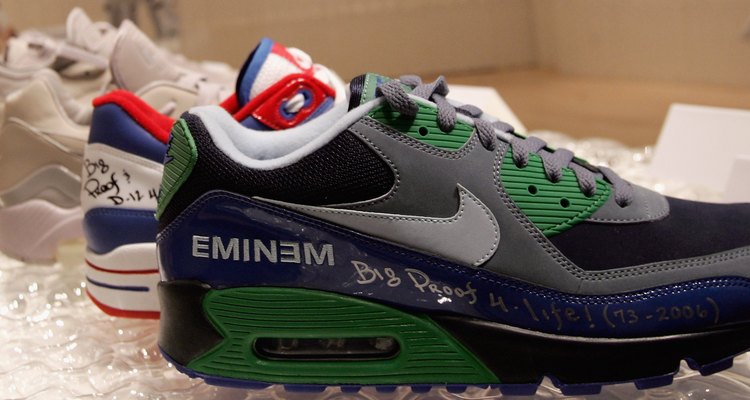 Gareth Cattermole/Getty Images Entertainment/Getty Images
In his 2013 album "The Marshall Mathers LP 2," he name-checks Nikes as his footwear of choice; in 2006 he designed a limited-edition Air Max model for the brand. Eminem has also been spotted wearing Air Jordans and Timberlands. Casual streetwear is once again the emphasis, no matter the brand.
Adding Accessories
Eminem does not go overboard on his bling. He does sport gold rings in his ears, and he often wears a single heavy gold chain necklace or bracelet. A large glitzy watch is also a possibility. If he's wearing a necklace, it will often carry a pendant such as a cross.
Detroit Iconography
Eminem is proud of his Detroit roots. In 2011, he partnered with Chrysler in its "Imported from Detroit" ad campaign. A portion of all merchandise bearing the "Imported from Detroit" slogan and logo goes to his charitable foundation. Wearing an IFD T-shirt or hoodie is a fine way to bite Eminem's style while giving back to his community. The hip-hop star has also been seen wearing a Pistons replica uniform top and a Detroit Tigers varsity-style jacket.
References
Writer Bio
Lori A. Selke has been a professional writer and editor for more than 15 years, touching on topics ranging from LGBT issues to sexuality and sexual health, parenting, alternative health, travel, and food and cooking. Her work has appeared in Curve Magazine, Girlfriends, Libido, The Children's Advocate, Decider.com, The SF Weekly, EthicalFoods.com and GoMag.com.
Photo Credits
Christopher Polk/Getty Images Entertainment/Getty Images