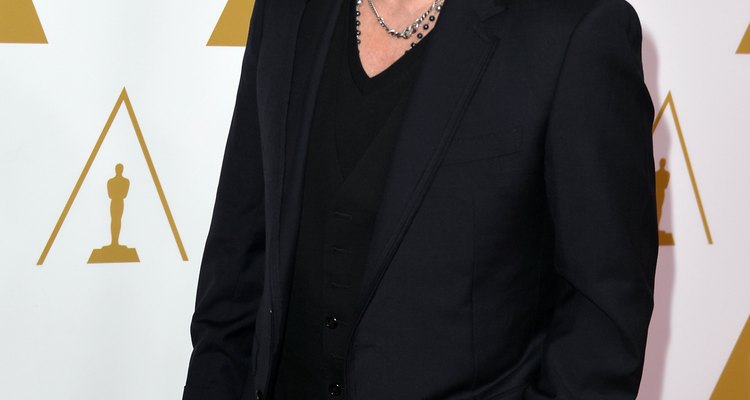 Kevin Winter/Getty Images Entertainment/Getty Images
Front man for the Irish rock band U2, activist and humanitarian, Bono has not only cultivated a legion of adoring fans but an instantly recognizable signature style. The singer, born Paul David Hewson and dubbed Bono Vox (Latin for "good voice") by his schoolmates, has used his mega-celebrity status to raise awareness for such causes as world poverty, hunger and AIDS, while looking rockstar cool at all times. Even if you've never picked up a mic, you can easily emulate the rocker's enduring esthetic.
Military Chic
Incorporate military-inspired pieces into your wardrobe. Bono regularly steps out in military-style jackets and hats in khaki green and black. To reference the battlefield without going full-on fatigues and camouflage, try a basic canvas jacket or bomber jacket in olive or black with jeans for a casual look or dial up the drama in a long, military-inspired trench coat in wool or leather.
Rock Leather
Add some edge to your style with a leather jacket or pants -- or both. Bono has an extensive leather wardrobe, including biker jackets with multiple zipper accents, hip-length coats with elaborate whip-stitching, and floor-length trench coats in both black and brown. If you're not ready for head-to-toe leather, go for an easy weekend look with a sleek black leather jacket and black jeans. Complete your look ala Bono with a plain black T-shirt and oversized silver belt buckle.
Statement Sunglasses
Wear sunglasses like Bono, who is rarely seen without tinted wraparound or aviator versions. Although the singer wears his shades both outside and indoors because he has glaucoma, it has become an indelible part of his signature, rockstar-cool look. Sport sunnies in colors favored by Bono, including red, purple, amber and blue hues.
Raise Your Profile
Get a boost in shoes with thick rubber soles or stacked heels. Try Bono-approved black thick-soled platform shoes -- also known as creepers -- or boots with stacked heels, such as cowboy boots. Bono wears his with everything, from jeans and T-shirts to a suit and tie.
Apparel of Edun
Bono's philanthropic attitude collides with his savvy style in the brand Edun, a clothing line launched in 2005 by Bono and his wife Ali Hewson. The clothing line was designed to promote trade and economic growth in Africa, with looks from Edun's first collection made mostly in Africa and South America. The line incorporates casual clothing as well as more formal looks for both men and women.
References
Writer Bio
Hilary White is a professional writer and editor based in San Diego. White has been writing articles on fashion, style, fitness, nutrition, movies and entertainment since 1994. Her articles have been published in "Westways" magazine, "Pages" magazine, "Book Street USA," "Magill's Cinema Annual," and numerous titles from Visible Ink Press. White holds a bachelor's degree in English from Michigan State University.
Photo Credits
Kevin Winter/Getty Images Entertainment/Getty Images