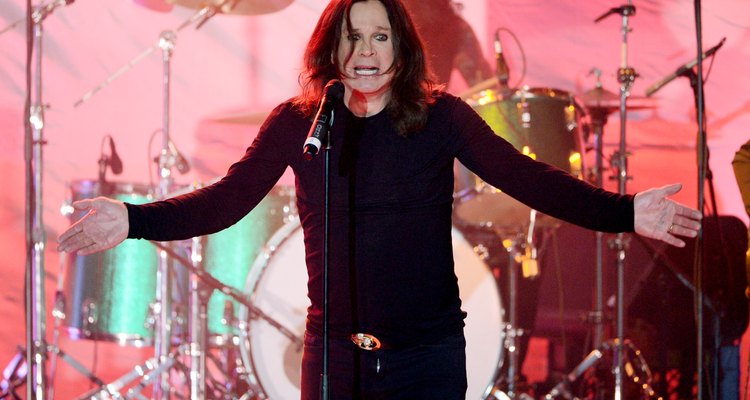 Kevin Winter/Getty Images Entertainment/Getty Images
Known as "the Prince of Darkness," Ozzy Osbourne rose to fame fronting the metal band Black Sabbath. His outrageous antics, which included biting off a bat's head in the middle of a concert, brought him almost as much renown as his music and reality TV show, "The Osbournes." Aspiring rockers can throw together an Ozzy-inspired look easily enough, but should leave the winged creatures alone.
Vintage Ozzy
Capture Ozzy Osbourne's 70s Black Sabbath look by wearing hippie-inspired clothing with a mystical twist. In his youth, Osbourne chilled out in black flared-leg jeans with a wide, low-slung belt. He often sported a simple, tight black T-shirt with a double-breasted leather jacket. When he performed, Osbourne loved fringe, so look for a jacket or shirt trimmed in long tassels. During the 80s, he dove headfirst into the glam-metal trend, with a bleached perm and clothes covered in sparkles and metallic details, so find something flashy if you want to evoke this period of his career.
Best in Black
For a modern Ozzy-inspired outfit, wear a long black blazer or tuxedo jacket with a black T-shirt underneath, which has been the rocker's go-to ensemble for over a decade. If you're feeling casual, wear a pair of black track pants or leather jeans instead, but keep your outfit monochrome – Osbourne doesn't do pink. Or green. Or anything else, really.
Go for the Gold
Osbourne may clothe himself in black, but the rocker loves his bling. Accessorize your outfit with lots of gold – bangle bracelets, flashy watches and chunky rings are all signature pieces for the musician and TV star. A necklace featuring an oversized cross really sets the tone, adding a gothic touch. Hide your eyes behind a pair of round sunglasses with blue or purple lenses.
Rock the Hair and Makeup
Like any performer worth his salt, Osbourne has a solid hair and makeup routine. His locks are simply, but dramatically, styled. Copy him by parting your hair down the middle and flat ironing it stick straight, or let natural waves take over for something a bit wilder. Ring your eyes in thick, smudgy black liner and paint your fingernails black, too. If you have any tattoos, let them show, as Osbourne never hides his ink.
References
Writer Bio
Hallie Engel is a food and lifestyle writer whose work has appeared in several international publications. She served as a restaurant critic for "Time Out Abu Dhabi" and "Time Out Amsterdam" and has also written about food culture in the United Arab Emirates for "M Magazine." She holds a bachelor's degree in communications and film studies from University of Amsterdam.
Photo Credits
Kevin Winter/Getty Images Entertainment/Getty Images