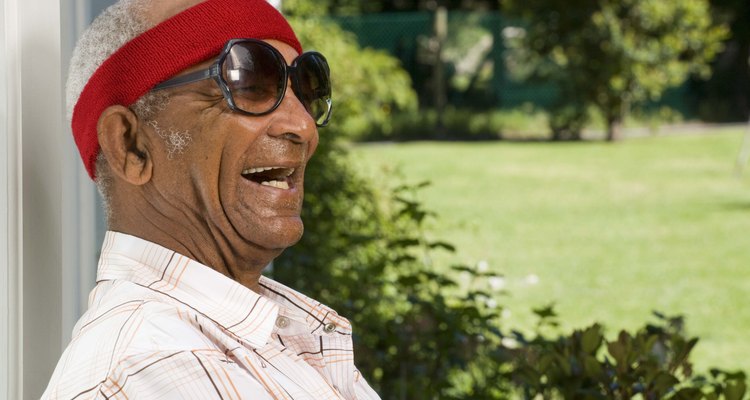 Jupiterimages/BananaStock/Getty Images
Headbands were a totally awesome hair accessory during the '80s. The headband craze began as a fitness accessory at the end of the '70s and carried over into the '80s with panache. Throughout the '80s, the headband evolved to a casual accessory worn with both fitness and casual attire. Men and women styled their hair around the headband accessory so the look was always perfect. Re-create the look by knowing the correct way to put on the '80s headband.
Positioning the Headband
Pick the right headband to represent the '80s era. Headbands in the '80s often contained bright neon colors, peace signs and tie-dye colors. Headbands were often made of cotton or terry cloth.
Pull the headband over your head and down around your neck. Twist the headband so the front of the band is in the front of your neck.
Grab the headband and pull upward so it is underneath your hair. The headband should sit over your forehead and just above your ears.
Adjust your hair around the headband. Men wore short hair spiked upwards so the headband was exposed. If they had longer hair then the hair was styled around the headband. Women wore long hair in a ponytail secured at the crown of their head, styled around the headband or poofed upwards.
Wearing the Headband
Style the headband with fitness gear to keep your hair out of your eyes. Both men and women wore the headband in a coordinating color to their outfits while pumping iron. In addition to the headband, women wore leotards, leggings and leg warmers all in the same color family. Men would wear headbands with cropped shirts, sleeveless shirts and gym shorts.
Wear the headband for a casual day look while shopping. Women often wore a cropped top layered over a tight fitting tank top and jeans or leggings. Go beyond the traditional ponytail and pull the hair into a high side-ponytail for true '80s fashion.
Rock out at a concert in an '80s headband by pairing the style with a vintage rock T-shirt and tight-fitting jeans. Finish the look with combat boots.
References
Writer Bio
Tabitha Harwell has been writing since 2008, with articles appearing in local publications and various websites. Her background includes a career in the fashion and beauty industry. Harwell holds a Bachelor of Arts in public relations.
Photo Credits
Jupiterimages/BananaStock/Getty Images