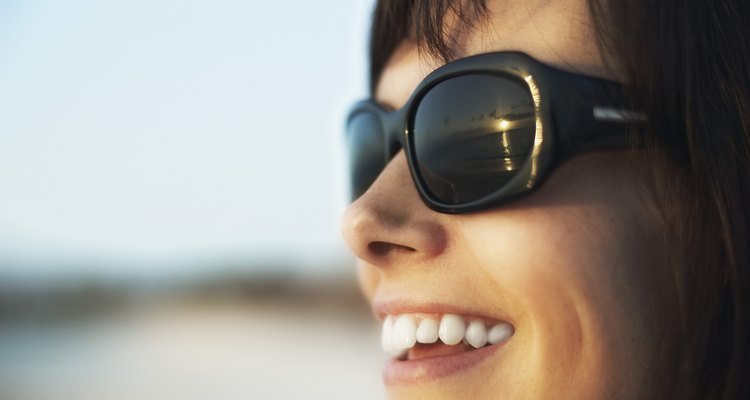 Jupiterimages/Brand X Pictures/Getty Images
If you watched television in the '80s, then you probably enjoyed watching Don Johnson play Crockett on the hit show "Miami Vice." Set in Florida, the show was full of cool, bright colors and plenty of white. For girls, emulating a man may not be as fun as dressing up as one of the female characters, such as Gina or Trudy. However, putting a feminine spin on one of the male characters is fun, too.
Detective Gina Calabrese
Detective Gina Calabrese exemplified the look of the '80s. Think about the styles that were popular then. This detective wore dresses with big shoulder pads; teased up, dark, curly, hairsprayed locks; and plenty of pastel and bright colors such as turquoise and hot pink. Oversize earrings, large sunglasses, bright lipstick and wide belts accessorized the look of the beautiful Latina detective. Her attitude was feisty, and her fashion sense fearless. Don't be afraid to mix bold prints with chunky jewelry such as bangle bracelets -- and don't forget your gun and badge.
Detective Trudy Joplin
Detective Trudy was the sexy cop. Get her style by wearing something short or low-cut and animal printed, or a crop top and miniskirt. Her hair was shoulder length and curly, and her lipstick and eyeshadow were the bright shades of the decade. Wear wild curls, bright earrings and jewelry -- and the detective was known as "Big Booty" Trudy for a reason. Trudy sometimes did undercover work as a hooker, hence her sexy outfits.
Crockett and Tubbs
Go as a female version of Sonny or Rico and get recognized immediately. Start with a bright blue or pink pastel T-shirt layered under a white jacket with white pants. Slip on some white loafers -- without socks, of course. Don't forget the sunglasses and the gun, and you're all set. Rico Tubbs sometimes sported a suit and tie in neutral colors, but both men looked extremely cool and a bit rugged. Use a makeup pencil to dot on a scruffy bear and mustache.
'80s Miami Babe
Take a cue from the beach bunnies in Miami and dress like an '80s beach babe. Feather your hair and add plenty of hairspray. Wear big, chunky jewelry, roller skates and a bright bikini, or a monokini with cutouts on the sides. Another idea is to wear a side ponytail, bright makeup and colored Ray-Ban sunglasses. Slip on Hawaiian Jams-style shorts over your bikini bottoms. Or, find some surf clothes by Panama Jack, Ocean Pacific or Body Glove and relive the '80s beach babe look for the perfect party costume.
References
Writer Bio
Christi Aldridge has been writing professionally since 2009. She graduated from Texas Christian University, where she was a featured contributor for several campus publications and won an award for best columnist.
Photo Credits
Jupiterimages/Brand X Pictures/Getty Images