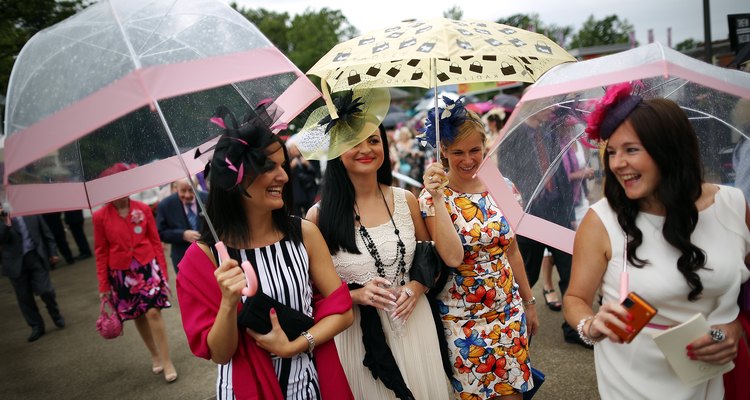 Peter Macdiarmid/Getty Images News/Getty Images
Clouds constitute a type of weather that doesn't hone in on what exactly you should wear. Nevertheless, you are able to go outside and get a feel for how to dress in terms of temperature and rain prep. The first thing to consider is your level of comfort: Is it cool and dry or warm and muggy? Next, learn what the actual forecast is and prep yourself accordingly. Finally, put together a look that corresponds to impending weather, what's comfortable and your own fashion sense.
Partly Cloudy with a Chance of Thunderstorm
Just because it's raining doesn't mean you have to downgrade your fashion. Remain in vogue with a knee length print or knit cardigan, either long or short-sleeved will work. Try it in dark red or burnt orange color. Let this drape over a silk, sleeveless, button-down collar blouse, paired with some light-colored skinny jeans. Accessorize your rain-ready look with a droop necklace, big hoop earrings, a fedora and fashion-print rain boots. Don't forget to top off your look with your ultimate thunderstorm accessory, a fun-patterned umbrella!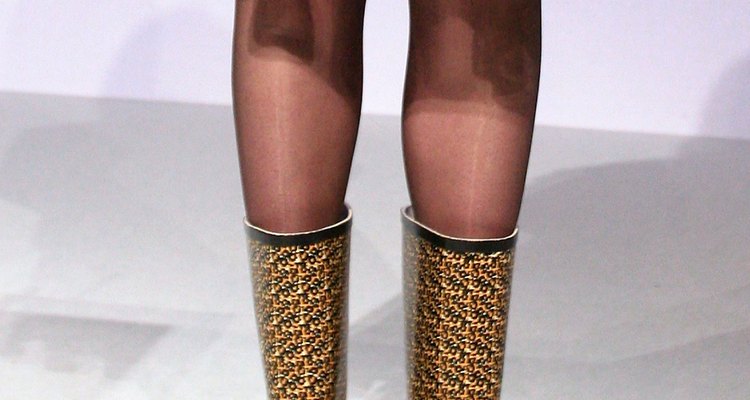 Christopher Furlong/Getty Images News/Getty Images
Partly Cloudy, Highs in the Mid 90's
Cumulus clouds on a hot summer day highlight the glory of a blue sky. Give an ode to the timeless scene by donning a white, summer classic tank dress. Color-block your look with vibrant accessories: a hot-pink wide brim sun hat, a candy blue clutch or yellow platform wedge sandals can add flair to your look. Loud, vibrant colors accompanying white offer a beautiful balance between bold and demure couture.
Partly Cloudy with Lows in the Mid 50's
For those days where the weather is looking a little sketchy (it's cool and looks like it's going to rain, but doesn't), layer your look to keep warm without totally covering up. At most fashion boutiques, ultra-thin spaghetti strap tanks and t-shirts are in stock during the spring and summer months. Add a few of those shirts to your summer wardrobe, so when cool days like this approach you can be warm and still look summery. Don about three of four of these multicolored tanks -- with the boldest color on top -- underneath an ultra-thin white cardigan. Pair your top with some platinum-colored harem pants and some strappy sandals. Accessorize your look with some big bold earrings and some platinum colored bangles.
Partly Cloudy with Scattered Showers
You never know where the showers are going to hit, so don't try to avoid them. Put your hair up in a messy bun, throw on some daisy duke-style shorts and some platform booties. Pair them with a tank and a lumberjack plaid blouse. Roll those sleeves up and go. Minimize your accessories to some simple gold hoop earrings, for a carefree, yet fashionable look.
References
Resources
Writer Bio
Rebecca Walton started writing after a 10-year career in state government. She is a long time contributor to Houston Style Magazine, which led to her becoming an authority on fashion and style. Walton holds a master's degree in liberal arts and owns a media and communications company that delivers content to the masses.
Photo Credits
Peter Macdiarmid/Getty Images News/Getty Images