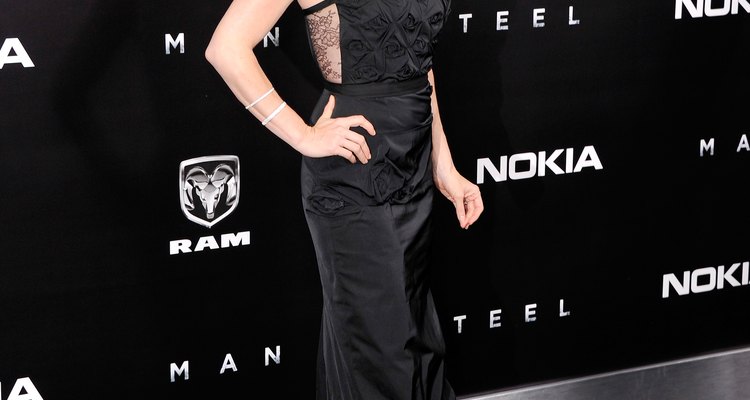 Stephen Lovekin/Getty Images Entertainment/Getty Images
Donning a black dress that wraps you in a sultry look from neck to toe is stunning enough without any extra adornment. However, because shoes are essential, and the reflective sparkle of a piece of jewelry adds an extra glamorous touch to your ensemble, accessories are often necessary. Styling a long black dress can cause a bit of a traffic jam in your brain -- nearly anything pairs well with black. So consider some solid styling ideas and go for the look that most closely reflects your style.
Casual Sleek
Create a casual yet sleek daywear appearance by going for an all-black ensemble with a piece of jewelry or two -- just remember to keep it simple. Perhaps you're wearing a black cotton jersey dress with slim straps and a scoop neckline. Wear your hair pulled back off your face in a ponytail, or smooth it sleek if you have super-short tresses. Slide feet into flat black gladiator sandals. Slip a couple slim bangles or a chunky menswear-inspired watch onto your wrist, throw a black hobo-style bag over your arm, and you're done.
Simply Smoldering
Going for a super-simple look that's full of sex appeal does not mean you have to skip out completely on accessorizing. However, in this case, the best way to go is to play up your look with sultry makeup. For your visual impact, swipe on fully saturated wine-hued lipstick and go for a subtle smokey eye. Wear your hair slicked back into a sleek high pony or wear it down in big, sexy curls for a smoldering look. Black pumps or high-heel sandals will complete your outfit.
Hollywood Glam
Go for a classic Hollywood glam inspired appearance by focusing on those characteristics of a bombshell celeb on the red carpet. Start with your hair, wearing it parted on the side with large waves. Simply blow your hair out smooth and wrap it in alternating directions around a 2-inch barrel curling iron. Add touches of gold to your look with dangle earrings, a gold bel,t and metallic, gold-hued peep-toe pumps. Reach for a black minaudière to tote your essentials for a chic, Hollywood glam inspired look.
Add Ornamentation
Your long black dress is a large blank canvas; an ideal space for ornamentation that will truly pop. If you're a fan of high-impact accessories, look for one unique statement piece. For example, if you're a fan of bracelets, look for a stunning cuff that boasts multi-color stones, or an intricate design with high-sparkle intensity. Or, if you're wearing a dress with a slim waist, add a black belt with a rhinestone ornament. If you have an apple-shaped body, avoid drawing attention to your waistline and instead add a bold necklace for a flattering look.
References
Writer Bio
Tarah Damask's writing career began in 2003 and includes experience as a fashion writer/editor for Neiman Marcus, short fiction publications in "North Texas Review," a self-published novel, band biographies, charter school curriculum and articles for various websites. Damask holds a Master of Arts in English and creative writing from the University of North Texas.
Photo Credits
Stephen Lovekin/Getty Images Entertainment/Getty Images