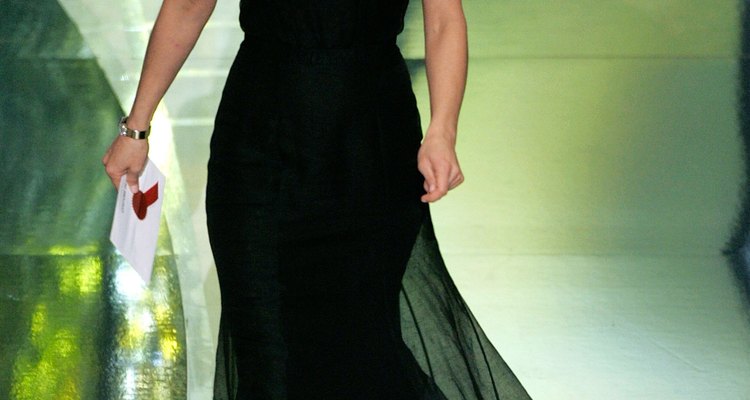 Kevin Winter/Getty Images Entertainment/Getty Images
Even the most basic outfit can be jazzed up with the simple addition of a well-chosen necklace. But like everything else in the world of fashion, certain rules apply when it comes to picking the piece of jewelry that looks best with a given neckline. One of the most versatile styles of tops is the scoop-neck, which resembles a "U" and typically hits fairly low on the chest. Choose the most flattering necklaces to pair with your favorite scoop-neck shirt or dress and you'll instantly add some flair to your fashion.
Neckline Placement
The deeply rounded shape of a scoop-neck works well with myriad of necklaces, primarily because the neckline's shape mimics a necklace's natural curve. When choosing the length of your accessories, pick a necklace that hits either just above or just below the hem of your blouse or shirt. The wide expanse of skin extending from your neck to the beginning of your top provides a great canvas for layering, so combine both short and long necklace lengths for an attractive option.
Volume
Instead of letting your skin stay bare, use the space to show off a substantive statement necklace. Chunky semi-precious stones and minerals, such as natural amethyst, turquoise and rose quartz, are great attention-getters with a scoop-neck. Likewise, a bib necklace -- which is typically constructed with three or more rows or a thick chunk of design elements -- is a fantastic way to dress up a basic scoop-neck dress. Whether you opt for a delicate floral motif, colorful gemstones or a tribal look, your scoop neckline can easily handle a high level of volume.
Layers
Embrace a boho-chic vibe with multiple strands of bright, colorful beads filling in the "U" space of your scoop-neck shirt. Or, go urban-cool with multiple strands of metal. Stick with all silver, pewter or gold, or edge up the look a bit with a mixed-metal group of chains in varying lengths. Both of these styles are especially effective with a simple black or white tee -- by keeping it simple, you allow your jewelry to do the talking.
Pendants and Pearls
If you've been looking for an occasion to show off that gorgeous pendant, your scoop-neck top is the ideal opportunity. Allow your chain to hit just above or below the hem of the scoop and let a singular medallion, ornate cross or chunky gem take center stage. Or, if you're going for a conservative, sophisticated look, anywhere from an 18-inch princess-length or 24-inch matinee-length strand of pearls will add instant elegance. Just be sure to choose the appropriate necklace length based on where the edge of your scoop-neck begins -- do that, and you'll have a perfectly polished look.
References
Writer Bio
Stacey Kole was managing editor of the International fashion and beauty publication Savvy where she penned stories on all things beauty and style, while writing cover stories on such celebrities as Victoria Hudgens and Julianne Hough. She continues to write for a variety of online fashion, beauty and health publications.
Photo Credits
Kevin Winter/Getty Images Entertainment/Getty Images