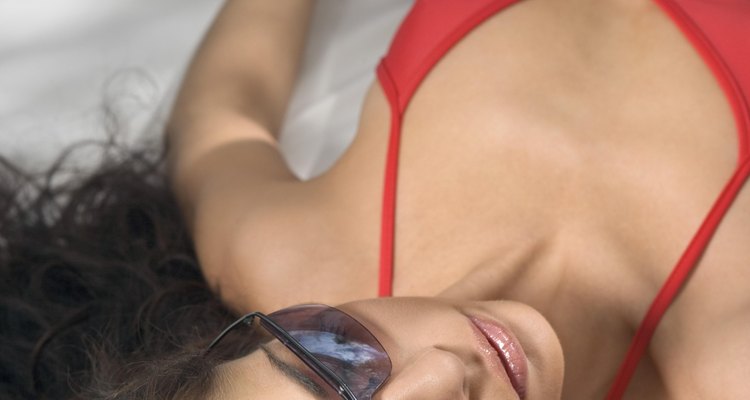 Thinkstock/Comstock/Getty Images
The iconic look of the 1980s television show ""Miami Vice" is easy to achieve for men. White suit, pastel T-shirt, sunglasses -- done. After all, the show had a huge influence on men's fashion, even down to today's metrosexual. For women, though, getting the right look can be a little trickier. Remember that the show was all about casual glamour, '80s-style, and you'll be on the right track, especially for a party, where dressing up is always appropriate.
Bikini
Since "Miami Vice" is set in Miami, a bikini swimsuit is always an option when it comes to evoking the appropriate time and place. Feel free to wear a wrap around your hips or a gauze cover-up top if you want a little more cover. Choose a pastel palette. Add a wide-brimmed beach hat, some stylish sunglasses -- Ray-Bans are very period -- and thongs for your feet and you're ready to go. You might not want to wear this outfit for an evening event, but might choose it for a backyard barbecue-type event.
Shoulder Pads
Pointy padded shoulders make for a distinctively '80s silhouette, especially when matched with big permed hair and big dangly earrings. A shiny silk, satin or gold or silver lamé jacket over a silk shell and leggings or a close-fitting dress would be particularly appropriate here. Wear tall boots, ankle boots or pumps.
Animal Print
The name of the show was "Miami Vice" -- emphasis on the vice. Prostitute characters -- or female cops working vice undercover -- were typical, and they dressed to the nines. To recap this look, choose a stretch animal-print dress in a pastel shade, such as aqua zebra stripes or hot pink leopard. Detective Trudy Joplin was particularly infamous for her undercover work in dresses like these. Add a chunky belt and accessorize with a feather boa, plastic costume jewelry, gloves if you like and of course teased hair -- perhaps with a streak of color in it to match the shade of your dress. You'll want to wear sky-high stilettos, too.
High-Waisted Pants
Tough-girl detective Gina Calabrese had a bit of a tomboy streak -- she loved her high-waisted pants. Add a belt and a big-shouldered white blouse and accessorize with oversized earrings. Don't forget the hair. You can go for the big poodle puffs or the iconic New Wave cut that's short on the sides and stacked on top.
Linen Suit
Genderbending was definitely part of fashion in the 1980s, so why not go as Sonny Crockett himself, the character Don Johnson played on the show? All you need is a white or off-white linen suit, a pastel T-shirt and a pair of loafers. No socks, please. Accessorize with a big gold watch and maybe a gold chain around your neck, too. Slick your hair back just like Sonny for maximum effect.
References
Resources
Writer Bio
Lori A. Selke has been a professional writer and editor for more than 15 years, touching on topics ranging from LGBT issues to sexuality and sexual health, parenting, alternative health, travel, and food and cooking. Her work has appeared in Curve Magazine, Girlfriends, Libido, The Children's Advocate, Decider.com, The SF Weekly, EthicalFoods.com and GoMag.com.
Photo Credits
Thinkstock/Comstock/Getty Images