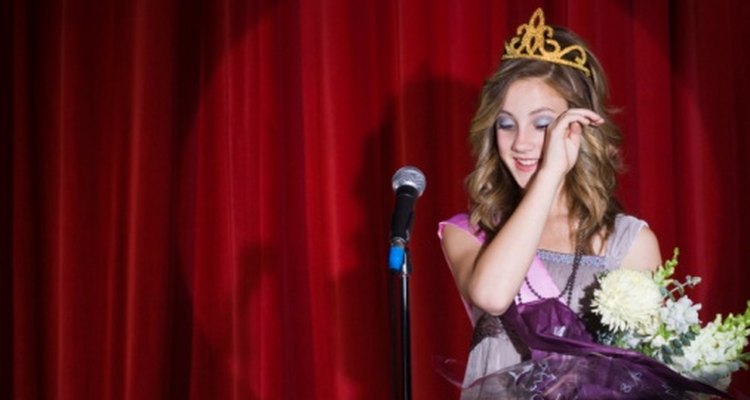 Jupiterimages/BananaStock/Getty Images
Some beauty pageants have a sportswear competition in which contestants dress down to show off a more casual side. Depending on the pageant, there may be dress codes for sportswear. Some pageants may require "business casual," while others specify jeans and a T-shirt. No matter, the sportswear competition is your opportunity to display your personality, so find an outfit that expresses you.
Jeans and a Top
A well-fitting pair of jeans and trendy top show your casual side while making you look presentable. The sportswear competition is your opportunity to showcase a little personality, so choose a top that speaks to who you are. For instance, a colorful polka dot top might convey a very fun-loving personality, while nautical stripes might convey a more preppy and reserved personality. Of course, personalities are complex and cannot be expressed singularly, but nonetheless, your patterns and prints can say a lot about you if you want them to. A pony-tail will really make the outfit "sporty" looking, but you could also leave your hair down.
Khakis and a Blazer
Ironed dress khakis and a tailored blazer (black or navy) are ideal for sportswear competitions that call for "business casual" attire. Khakis should be dress khakis with a pleat, not cargo or cropped. The blazer should be tailored so that it looks sharp and professional. Do not detract from the outfit with a top that is too bold—in other words, no animal prints or polka dots or loud colors. A neutral color (gray, charcoal or white) to offset the blazer works best.
Dress Slacks and a Sweater
Dress slacks and a sweater make a good outfit for sportswear competitions in pageants that are held indoors in the fall or winter. Dress slacks and a sweater are preppy and slightly formal, but they can be fashionable as well. Pin-striped or solid color slacks (in black, navy or dark brown) can be matched with a more brightly colored sweater. Don't be afraid to wear bold colors on top—pink, purple or red can be matched with the dark slacks and still look very sharp. You can dress up the outfit with a pearl necklace and earrings.
Skirt and Blouse
A skirt and blouse is an ideal outfit for contestants who want to exhibit a sense of fashion or style. A skirt and blouse may be casual or dressy. You could opt for a casual look and wear a khaki skirt and a cotton blouse. Or, you could opt for a more dressy look and wear a silk skirt and silk top. Generally, a dark solid-color skirt and a patterned top works well, because you want to attract attention to your face rather than your legs. If the the skirt and blouse are on the dressy side, you may want to wear stockings. For casual outfits, bare legs are fine. Chunky jewelry will complete a casual look, while a small strand (of pearls or other beads) will add a finishing touch to a dressier look.
Fitness Gear or Sport Uniform
Some sportswear competitions are looking for contestants to showcase themselves in the area of healthy lifestyle and fitness. For these competitions, it is appropriate to wear what you would do the gym or to a sports practice. If you play a sport, wear your uniform as you will likely be asked to explain what you do to stay healthy. Even if you normally would not wear jewelry to play, you can wear modest jewelry for the competition. Stud earrings and a ribbon in your hair make for a sporty and fun look.
References
Writer Bio
Audrey Farley began writing professionally in 2007. She has been featured in various issues of "The Mountain Echo" and "The Messenger." Farley has a Bachelor of Arts in English from the University of Richmond and a Master of Arts in English literature from Virginia Commonwealth University. She teaches English composition at a community college.
Photo Credits
Jupiterimages/BananaStock/Getty Images