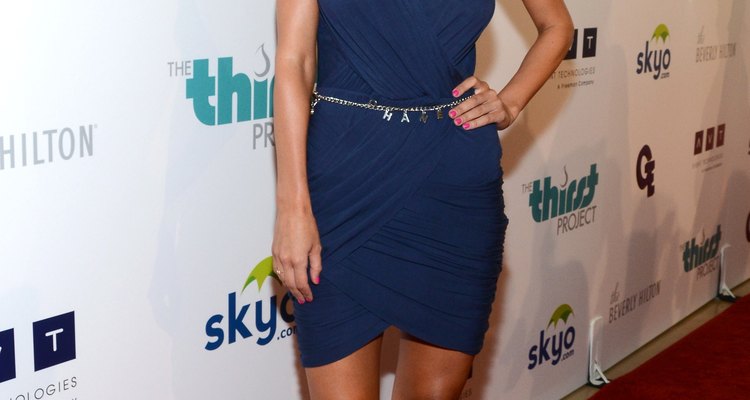 Araya Diaz/Getty Images Entertainment/Getty Images
Nightclubs are a go-to weekend destination for many young professionals and with the plentiful drinks and dancing comes a specific type of attire. With competition steadily increasing, clubs are in constant search of the hippest, trendiest and most fashionable of customers, so you'll want to dress to impress. From beautiful ladies to handsome gentlemen, if you're attending a nightclub this weekend, be aware of the dos and don'ts to ensure you're on top of your style game.
Flip Flops
"But they are so comfortable!" you say. Under no circumstances is it acceptable to wear beachy flip-flops to a nightclub. Not only do they look inappropriately casual, but you'll be putting your feet at risk for trampling, as thong sandals simply don't offer enough support to be on your feet, dancing the night away. If heels are impossible, opt for a cute pair of bedazzled flats; men should stick to dress shoes for a look that is sleek and put-together.
The Wrong Pants
While some hip-hop clubs might welcome street style clothing, most upscale night clubs will require a specific type of dress. Baggy pants can look sloppy and should be left for casual daytime outings, not nights out at a club. If you are a fan of baggy pants and are unsure of what to wear instead, choose a dark-wash straight-leg jean or black or grey pair of slacks. Jeans may be acceptable for women, as long as they are fitted and neat, not covered in tears and slashes that can look tacky for evening.
Inappropriate Accessories
While there are plenty of perfectly acceptable garments for the nightclub, a few accessories should never set foot through the door. Sunglasses are one such accessory. Bouncers will more than likely ask you to remove the eye wear if you arrive at the club wearing them, so it's best to leave them at home. Although chains and spike-laden accessories are hot right now, sharp spikes can be a safety hazard inappropriate for the club. If you have to question whether an item is appropriate, it might be best to forgo it. No accessory is worth being denied admission, thus potentially ruining your entire night.
Ill-Fitting Clothing
If it doesn't fit, don't wear it. While many women tend to think less is more when it comes to nightclub attire, anything that puts you at risk for a wardrobe malfunction should be left in the closet. Blouses that are too low-cut may attract the wrong kind of attention. There are ways to dress sexy and stylish while leaving something to the imagination. If dresses are too scandalous and don't cover all the necessary areas, you risk getting rejected at the door, which can be an embarrassing event. Keep things classy and covered so your nightclub ensemble stands out for all the right reasons.
References
Writer Bio
Sara Cantu has been writing fashion and lifestyle articles since 2009. As a fashion stylist, writer and blogger, she has been published in "Lady Couture" magazine and "RGV" magazine. She holds a Bachelor of Arts in journalism from The University of Texas - Pan American.
Photo Credits
Araya Diaz/Getty Images Entertainment/Getty Images