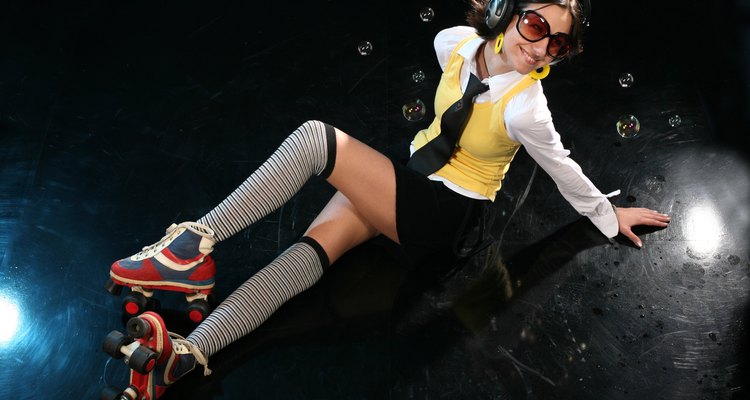 Darko Novakovic/Hemera/Getty Images
Roller skating rinks were once the hippest place to be and although their popularity has decreased over time, they are still a great place to let loose and have a wonderful time, whether with family or friends. You'll want to wear something cute, stylish and comfortable for this type of outing. From denim jeans to cotton dresses and tights, the roller skating rink might just be the perfect place to make a fashion statement and be seen.
Denim Jeans
A trusty outfit of jeans and a T-shirt is a safe bet for a laid-back roller skating rink look. Avoid anything too tight that will hinder your ability to move freely. Roller skating is all about having fun and letting loose, and it's quite difficult to do that when you're uncomfortable. Jeggings are another awesome option for this type of outing. Cute but casual, they pair well with tons of blouses and will allow you to glide effortlessly due to their perfect stretchy fit.
Shorts
Shorts are a good option to choose when putting together a rollerskating outfit. Not only are they cool and comfortable, but depending on what you pair them with, they can make for a fabulously trendy outfit as well. The best thing about this type of clothing is the freedom to move around. Pair high-waisted shorts with a fun crop top for an adorable retro-inspired look. If you'd like something a bit more basic, a pair of denim cut-offs and a comfy tank top will do just fine.
Dresses
While dresses are always a safe option for leisurely days, approach with caution when planning an outing to a skating rink. Slips, falls and tumbles are quite common for beginning skaters, so be sure to pair your dress with tights to avoid an unfortunate wardrobe malfunction. Whether it's a long pair of colored tights or a cute pair of biker shorts underneath, adding an extra layer of protection will keep you cute and comfortable throughout the day.
Athletic Gear
For a look reminiscent of the disco era, combine a tank top and a pair of short, striped athletic shorts to be comfortable and trendy at once. Not only is this an adorable look for the rink, but you'll be ready to move with ease as well. Be sure you are wearing a pair of clean, tidy socks. Rented roller skates are worn by hundreds of people, so keep your feet as shielded as possible to avoid germs and bacteria that might have been missed during cleaning.
References
Writer Bio
Sara Cantu has been writing fashion and lifestyle articles since 2009. As a fashion stylist, writer and blogger, she has been published in "Lady Couture" magazine and "RGV" magazine. She holds a Bachelor of Arts in journalism from The University of Texas - Pan American.
Photo Credits
Darko Novakovic/Hemera/Getty Images