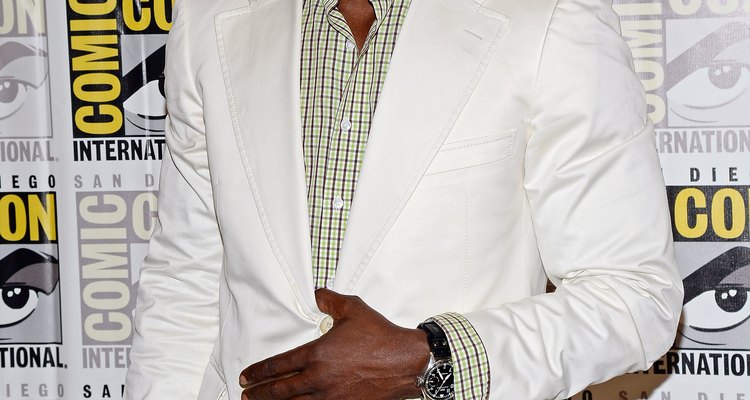 Ethan Miller/Getty Images Entertainment/Getty Images
On the set, costume designers hook actors up with just the right clothes and directors dress themselves in their most comfortable attire for a long day of hopping around behind the scenes. Off-screen, though, men in Hollywood face the judgmental flashbulbs assessing their wardrobe picks at everything from gas-station runs to red carpet strolls. Thankfully, the casual cool of Los Angeles mingles with the dashing fashion of the silver screen to keep men dressed to kill no matter what the occasion.
Down Time
If there's anything that's cherished in the City of Angels, it's time away from the glitz and cameras to just unwind and enjoy the Pacific Ocean or the San Gabriel Mountains. Kicking back doesn't mean kicking all fashion sense out the door. Instead of slipping on rubber thong sandals, try well-crafted leather sandals or sharp cross-trainers that can fit in at a party on the Venice sand or in the produce aisle at a Brentwood grocery store. Gym time calls for a retro screen-print T-shirt paired with boxing shorts or properly fitting sweatpants, while a casual day spent reading the paper at a coffeehouse calls for a well-fitting yet slightly relaxed pair of jeans in a broken-in wash that's soft to the touch. Pair with a T-shirt bearing the logo of a cool classic rock or hip-hop group, and throw a long-sleeved, cotton button-down shirt -- that's left unbuttoned -- over the ensemble for a little extra warmth.
Power Lunch
Whether meeting an agent, a manager, or a reporter who's going to tell all, the Hollywood power lunch is as ubiquitous as the stars beneath your feet on Hollywood Boulevard. Work a cardigan with a T-shirt over a pair of jeans. Or, instead, wear a thin hoodie as a first layer with the hood falling over a leather jacket. If you opt for a button-down shirt, it can stay untucked over the jeans but it should be tailored enough that it doesn't look sloppy. Embrace a bit of old-school retro with a classic button-fly jean and a striped polo shirt, and finish with Chuck Taylor Converse high tops. To channel the more bohemian stars, experiment with scarves as well as hats -- from newsboy caps to fedoras -- to add a bit of mystery to your look.
Premiere Time
You know you're new to Hollywood when you overdress for your first premiere. The perfect premiere outfit treads a fine line between appropriately dressy and casual cool. This outfit also reflects the tone of the event you're attending: a comedy calls for something more on the casual side, while the seriousness of an art-house documentary is reflected in more austere wardrobe choices among the attendees. A casual light-colored suit might get a pop of color from a tie at an unbuttoned collar and be finished off with sneakers. A soft sweater against your skin paired with crisp trousers looks like you didn't try too hard, but gives off a warm and inviting air. A light-gray suit with a monochrome dark-gray shirt and patterned tie exudes cool -- or, just ditch the tie altogether and leave the first button or two open. A dark-rinsed jean becomes perfect for nighttime with a sharp wool vest over a button-down and a tie, then topped off with a trench coat.
The Red Carpet
Awards shows find the Hollywood elite who might opt for scruff and jeans on any other given day channeling their inner Sinatra for a look that's timeless and dapper. A favorite here is the black well-tailored suit with a crisp white shirt and skinny black tie as a variation on the classic tuxedo. This suit gets dressed up even further with a satin lapel, or a shawl collar and white pocket square. To try the tuxedo suit with a hipster edge, don a maroon or navy option with the classic white shirt and black tie. Put on the swagger in a suit with a subtle nighttime sheen, or opt for black with pinstripes -- but make sure it's balanced out with an understated shirt and tie. For a classic tux, try black-on-black by swapping out the white shirt. Invest in a good quality pair of leather shoes that take a shining for stepping out at more formal events. And, although stars in L.A. find the weather doesn't often drop to this level of necessity, a finely tailored, long, black wool coat with a cashmere scarf should be a wardrobe staple.
References
Photo Credits
Ethan Miller/Getty Images Entertainment/Getty Images