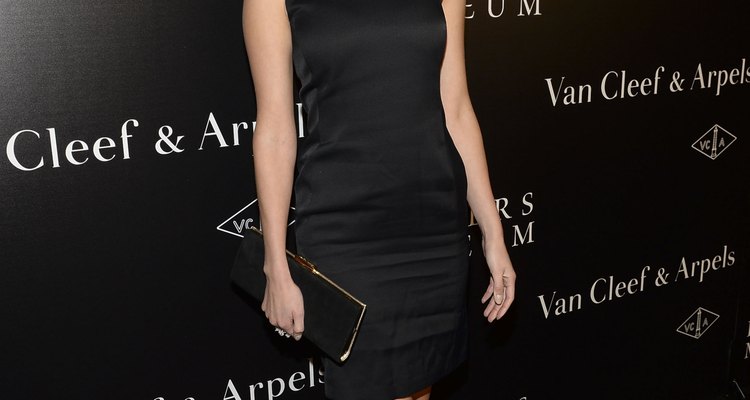 Michael Buckner/Getty Images Entertainment/Getty Images
When you're headed out for a romantic dinner or a movie with friends, you probably have a good idea about what to wear. But when you're going to an event like an art opening, the proper dress code can be difficult to decipher. Creative atmospheres, like galleries, allow for quite a bit of leeway when it comes to your outfit. Choose a look that makes you feel confident and comfortable -- while showing your own artistic flair -- and you'll fit right in.
Go Classic
Whenever you're in doubt about what to wear for a certain occasion, your favorite little black dress is usually the go-to option -- that's definitely true for an art opening where cocktail attire is the order of the day. Pair a black halter dress with a bolero jacket in a rich color like ruby or sapphire for a bold look, or keep the vibe understated with a simple black satin sheath. Infuse personality with jewelry choices -- think layers of mixed metal chains or emerald-colored chandelier earrings. Even a simple black jersey wrap dress can work well for a gallery opening if you pair it with black heels and a dramatic statement necklace.
Get Suited Up
A suit may seem a little stuffy for an art opening, but it can be a hit if you pair it with the right pieces. If you're headed to the gallery straight from work, wear your usual black or charcoal pencil skirt but swap the plain blouse or shell for something a little more eye-catching -- a beaded blouse, lacy camisole or corset-style satin top can be an ideal option. Toss aside the jacket if you wish, or use it for extra warmth. You can also change your work pumps to a peep-toe or stiletto heels for a more dressed-up look. A sexy evening suit can also work for a gallery opening; opt for a tuxedo style with satin lapels and trim down the pants.
Dress Down
You don't necessarily have to go for cocktail attire at an art opening. If you prefer a more relaxed vibe, choose a dressed-down outfit that's still stylish and appropriate for the gallery setting. Opt for an oversized silk blouse with skinny jeans, leggings or cigarette pants, and add a belt in a bold color or pattern to cinch your waist and infuse a little personality. Pair the outfit with ankle boots or heels and layered necklaces or a chunky pendant to finish off the look.
Make a Statement
If there's ever a time to experiment with an edgy look, it's at a gallery opening, as the artsy setting usually allows for plenty of freedom with your clothing. Bust out your favorite leather skirt or jacket and pair it with more sedate pieces like a lacy blouse or a satin tube dress. Opt for a simple cocktail frock and wear it with a pair of dramatic lace-up knee boots. Whimsical pieces like a bubble-style skirt or bold, graphic prints are right on point in the creative setting, so have fun with styles, colors and patterns.
References
Writer Bio
Based in New York City, Jennifer Blair has been covering all things home and garden since 2001. Her writing has appeared on BobVila.com, World Lifestyle, and House Logic. Blair holds a Bachelor of Arts in Writing Seminars from the Johns Hopkins University in Baltimore, Maryland.
Photo Credits
Michael Buckner/Getty Images Entertainment/Getty Images