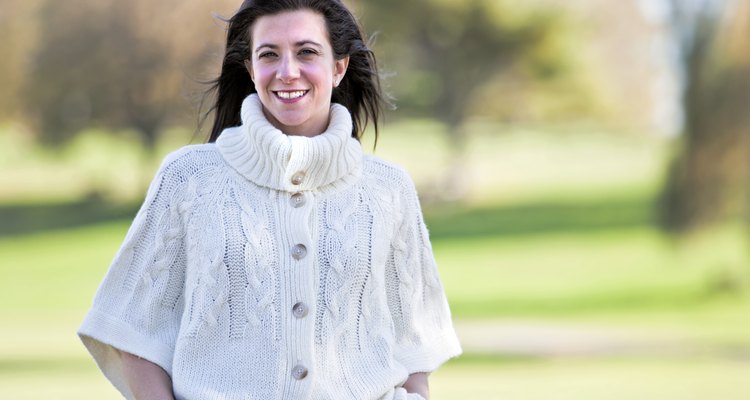 Stuart Monk/iStock/Getty Images
The time-tested ruana strikes a balance between beauty and utilitarianism. The flowing drape – a happy medium between a shawl and poncho – is a versatile one-size-fits-all top for many an outfit. Wear it loose and breezy or elegantly wrapped.
Ways to Drape
While the ruana always covers the shoulders, you have no shortage of ways to drape it. Wear a ruana open at the front for a flowing look that can be casual or dressy, or throw both ends over your shoulders for a warmer option. For a more elegant vibe, wrap the ruana over one shoulder and let it hang down over the other. Tie it in front, just above the waistline, for a neat middle ground between dressed up and dressed down.
Layering Up
For day-to-day wear, wear a ruana with a pair of fitted jeans and a simple blouse. The drape instantly becomes the centerpiece of the ensemble, so keep the underneath layers sleek and simple. Sheath dresses and shirtdresses -- perhaps with a pair of leggings for added warmth -- also flatter the poncho-esque drape. In autumn, throw on a ruana with a mid-length pencil or tube skirt. Add interest to the neckline with a turtleneck.
Adventurous Accessories
Few accessories complement a ruana as well as a brooch. It instantly dresses up the garment and keeps it in place. A cowl-necked ruana with a low-cut blouse accommodates a bold necklace. A lightweight scarf, loosely wrapped around the neck or draped over an open-faced ruana, gives the garment an even greater sense of motion. As a cool-weather garment, ruanas complement leather or suede riding-style boots or ankle boots.
Taking Ruana Risks
While ruanas are most common in solid shades, a patterned garment is a bold wardrobe choice. Some ruanas feature chunky and modern geometric shapes, while others tout intricate Southwestern-inspired patterns. Choose a fringed or plaid ruana for a rugged look, or a ruana with a little ruffle for a feminine touch. Experiment with styling -- pin it with a brooch to wear as a skirt with a pair of leggings, or cinch an open-front look with a thick belt.
References
Writer Bio
With a diverse professional background and a decade of experience as a freelance writer, Dan has contributed lifestyle content -- from fashion to travel to fitness and more -- to publishers including Chron, Fortune, Sony, GlobalPost, ModernMom, Moviefone, Salon.com, Techwalla and dozens of others.
Photo Credits
Stuart Monk/iStock/Getty Images