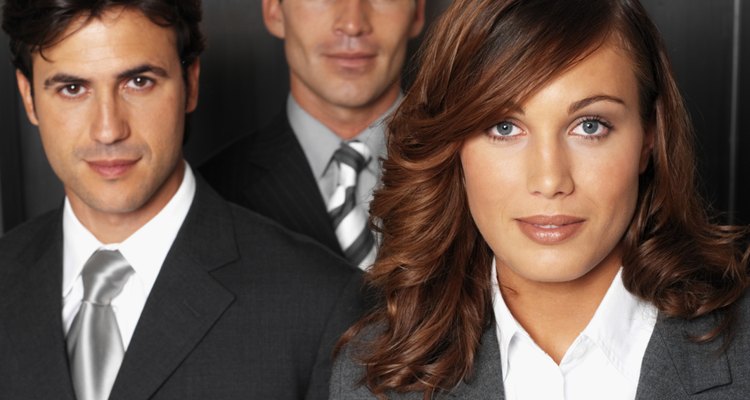 George Doyle/Stockbyte/Getty Images
Color experts say gray suggests dependability, longevity, dignity and introspection. Along with black and navy blue, it's one of the most important suit colors for the work wardrobes of men and women alike whether in a pale dove, a medium steel or a dark charcoal. One of the best aspects of the familiar and versatile neutral is that it goes well with many things and can look great on anyone.
Neutral Colors
The key fashion neutrals -- black, white, chocolate and navy – complement gray and can present a strong canvas on which to layer accessories of other colors. For more conservative elegance, pair a gray suit with a black shirt, turtleneck or V-neck sweater over an open-collar top. This is a chic look for informal evening outings or casual Fridays at work in the winter. For a fresh and contemporary pop, combine a crisp white top with your gray suit. Chocolate and navy provide more reserved hints of color and look good going into fall and winter. Combining checks and tweeds with gray, particularly when dressing for the office, makes gray look richer and more exciting.
Bright Pops
Like white or black, gray is a canvas that can be matched with virtually any color. The spectrum of brighter blues, purples, pinks and reds provide attractive accents, from blouses, scarves and purses for her to shirts, neckties and pocket squares for him. For more fashion-forward combinations, wear your gray suit with shades of orange, green or yellow. Typically, lighter hues look more at home in the spring and summer while darker shades feel more natural during autumn and winter. Don't forget about colorful prints and patterns, which can give a gray suit a more casual vibe.
Shoe Options
Several shoe colors can attractively complement a gray suit. Black shoes look good with shirts and other key components in white, black or blue. Brown shoes are a good choice when you're pairing yellow or orange with your gray suit, and cordovan shoes make sense when combining reds and purples with gray. Make sure the tones complement, such as light brown shoes with a pale gray suit or black shoes with charcoal. When the weather turns cold, the right style of boot can give a gray suit a hip and urbane feel. A thigh-high black boot, matching purse and silver blouse with a charcoal skirt suit can be authoritative and office-appropriate for women while a cordovan ankle boot with a medium-gray suit, white open-collar shirt and maroon paisley pocket square can set a man apart from his coworkers on a casual Friday.
Other Considerations
Silver and platinum jewelry are natural complements for a gray suit while warmer metals such as gold, bronze and copper tend to clash. To transition from the office to an evening date, some women switch to more eye-catching pieces in Lucite, crystal or diamond. White shoes and bags can be jarring against gray, possibly causing you to look like a human mouse. A black bag is the simplest and most sensible match for a gray suit. For women who want to wear hosiery with a gray skirt suit or pant suit, nude is the most conservative choice, sheer black is dressiest and opaque black is the most office-friendly.
References
Resources
Writer Bio
LaMont Jones was an award-winning fashion and beauty editor for a decade at the "Pittsburgh Post-Gazette." A five-time nominator and judge of the CFDA Awards, he covers New York Fashion Week regularly. Jones is a 2011 inductee into the Pittsburgh Fashion Hall of Fame and coaches fashion models.
Photo Credits
George Doyle/Stockbyte/Getty Images