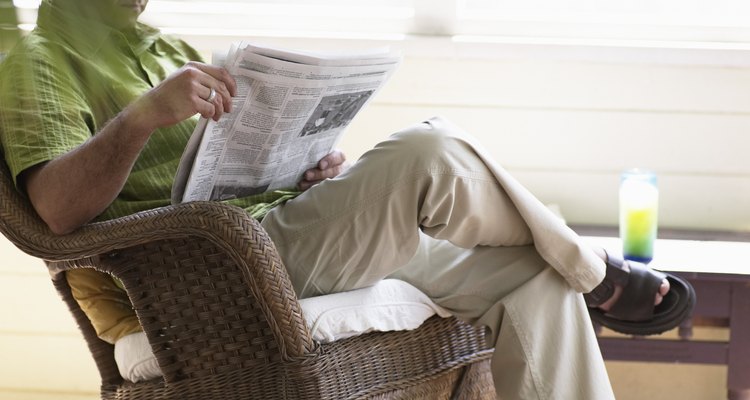 Ryan McVay/Photodisc/Getty Images
Linen clothing is a quintessential part of summer styling, and choosing the right footwear is vital to complementing linen's laid-back sophistication. The good news is that men have several appropriate shoe choices to partner with linen pants and shorts. Your selection will be guided by the look you want to achieve, which can be casual, smart casual, business appropriate or dressy.
Short Cut to Cool
Linen is a breathable, dampness-resistant fabric, offering an ideal option for staying cool when the weather forecast is hot and humid. For a casual daytime gathering, such as a backyard barbecue, dark brown leather thong sandals will help contribute to the coolness factor, while canvas shoes give your feet a bit more protection. White canvas is a safe bet for any color of shorts; subtle colors -- think slate or navy blue -- are additional canvas shoe options to pair with khaki and cream-colored linen shorts. To add interest to your outfit, rock a pair of madras cloth boat shoes. For evening events, switch to medium-brown or oxblood penny loafers.
Look Smart in Linen
Shoes are key to finishing a smart casual ensemble. A khaki sports jacket over a blue oxford shirt adds polish when paired with linen shorts, but the shoes need to step up, too. Choose dark brown tassel loafers to contrast with light-colored linen shorts or continue the light hue with bone or neutral-colored leather driving moccasins. Off-white suede bucks are a lighthearted, preppy look for daytime gatherings or summer evening cocktail parties and can be paired with any color. Open-toe sandals or huaraches in medium or light brown leather work well with casual-cut or drawstring linen trousers.
Linen on the Agenda
The linen suit has taken on color in recent years, expanding beyond khaki into shades of blue, green and burgundy. Keep the look business-appropriate with black leather brogues for a suit pant in dark shades, such as navy blue and gray. Dark brown brogues or wing tips work better with khaki and brown linen suit pants. If your office subscribes to casual Fridays, take the opportunity to switch out your dress shoes for sand-colored desert boots or a pair of canvas shoes in taupe or khaki.
Linen Elegance
Dressy affairs typically call for a linen suit or linen pants and a sports jacket, but consider the time of day and setting when selecting your shoes. For a daytime event, such as an afternoon outdoor wedding, tassel loafers or Oxfords in dark brown or cordovan leather are a good choice for darker shades of linen. If your suit or trousers are a lighter shade, contrast your shoes to the pants -- without going too dark -- by choosing a chestnut brown leather tassel loafer or derby shoe. Dark linen suits are most appropriate for evening affairs and are best paired with simply styled black dress loafers.
References
Writer Bio
Laura Leddy Turner began her writing career in 1976. She has worked in the newspaper industry as an illustrator, columnist, staff writer and copy editor, including with Gannett and the Asbury Park Press. Turner holds a B.A. in literature and English from Ramapo College of New Jersey, with postgraduate coursework in business law.
Photo Credits
Ryan McVay/Photodisc/Getty Images