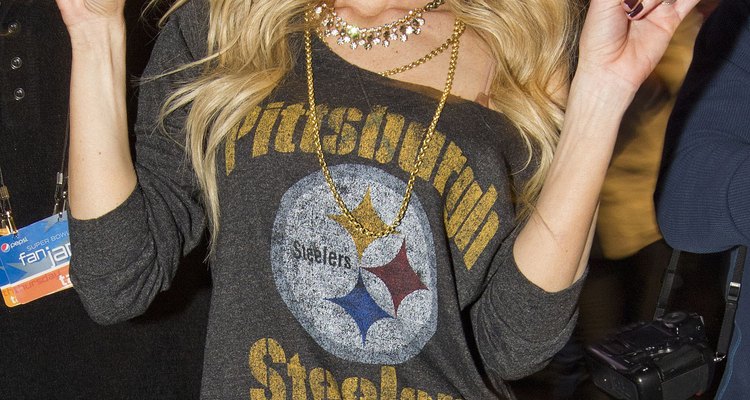 Christopher Polk/Getty Images Entertainment/Getty Images
It's fourth down and long and you're nowhere near deciding what to wear to what promises to be a great day of football. Whether at a living room bash or a lively, noisy bar party, the Super Bowl is celebrated not just with endless trays of potato skins but with style that reflects your team spirit. If you're just coming for the grub instead of the game, you can still be cute and comfortable -- or you can go the distance with a costume that screams fan spirit.
Neutral Territory
You're lured to the party by the promise of killer appetizers and good company, but your team wasn't lucky enough to make the cut this year or you're not even a football fan. The key to enjoying a Super Bowl party in style is being comfortable while looking together. Choose your colors wisely, because a white sweater could easily encounter an errant buffalo wing, and remember that designer jeans might get an inadvertent dose of bean dip. Stashing a cozy pair of slipper socks in your bag is smart if you know your host will prefer that guests leave shoes at the door, but this strategy works well regardless when you're watching hours of football. Expect that you might be sitting on the floor, squeezed onto a crowed sofa or at a packed bar, and dress comfortably. Good options include a tunic sweater and leggings, a T-shirt layered with a wrap sweater in case of heated crowds or winter chill, or a casual sweater dress with opaque tights.
Team Colors
You've staked out a favorite side, but either haven't gotten your hands on official team gear or want to reflect your loyalty through colors instead of logos. Brand your team allegiance with sporty flair by wearing a velour tracksuit in your team's color with a T-shirt underneath in the team's accent color. Pair your favorite pair of relaxed jeans with a T-shirt in your team's main color and slip off your shoes to reveal the team's accent color in your socks. If you're going to an event that's more chic than beers and bros at your best friend's house, start with a base outfit of jeans and a stylish top, then add a team-color scarf. And don't forget a coat of nail polish in one of the team colors.
Uniform Gear
It's the Super Bowl party's version of the little black dress: classic jerseys, T-shirts, pullovers, caps and even socks emblazoned with the logo of your favorite team. But an oversized jersey and team sweats can make a woman feel dowdy in a party atmosphere. Designers of team gear have taken notice, and produced feminine versions of the standard team tee, including fitted V-necks and racerback tanks. If your heart is set on a personalized team jersey, size down for a more fitted look. Wear a slim long-underwear tee underneath to avoid layers becoming too bulky. Pair a cute burnout tee with a team hoodie that you can pull on or off depending on the temperature.
Extreme Fan
You're a die-hard groupie for your favorite team and want to go a big step beyond the jerseys and team hats the rest of the fans will be wearing. Take your team's mascot or theme of your team's city and spin off a Super Bowl costume. For example, a Dallas Cowboys fan could either don Western wear or dress up as a character from the "Dallas" TV series. A New England Patriots party could pretty much look like a 1776 re-enactment if participants have fun with tricorner hats and ruffled shirts. Giants or Jets fans can party dressed as famous New Yorkers, from Barbra Streisand to Teddy Roosevelt. Raiders and Buccaneers fans can have fun with pirate gear, while a Catwoman costume would be the life of a Carolina Panthers party.
References
Photo Credits
Christopher Polk/Getty Images Entertainment/Getty Images