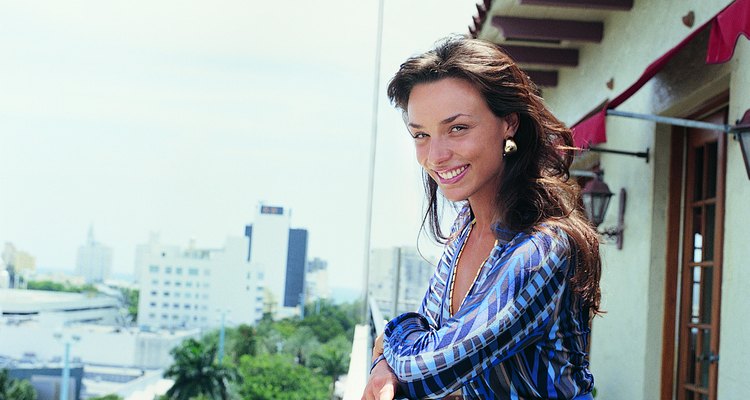 Digital Vision./Digital Vision/Getty Images
Whether you have a Fourth of July party to attend, are looking for an outfit to wear on Memorial Day or want a themed look for Flag Day, choosing an idea for a patriotic style of dress can make the holiday complete. Get out your best red, white and blue clothes or go for a more subtle route, and dress up for the next all-American day.
Everyday Clothes
Although dressing up in an outlandish outfit for a holiday has its perks, you don't have to look like you're wearing a costume. Dress for the next patriotic day in everyday clothes that add a pinch of the holiday spirit. Instead of choosing items plastered with stars and stripes all over, opt for a simple red, white and blue plaid dress shirt or button-down. Another easy option is to pair blue jeans with a red T-shirt and a white cardigan or hooded sweatshirt. You will get all of the patriotic colors in while maintaining an everyday feel.
Embellished Shirts
Turn a plain red, white or blue T-shirt into a patriotic statement with a few homemade embellishments like puff paint, sequins, jewels or glitter. Start with a washed and dried T-shirt, placing a piece of cardboard inside to stop any paint or glue from bleeding through. Draw on a design -- such as red, white and blue stars or fireworks -- with fabric paint or glue. Cover lines made by glue with glitter or sequin-type jewels. Let the T-shirt dry, remove the cardboard and wear the patriotic-themed item to your next holiday event. Try to keep the shirt dry because the paint or glue may run if it gets wet.
Stars and Stripes
Combine different patterns to create a stars and stripes theme outfit. For example, pair a red and white striped tank top with a blue star skirt or a blue T-shirt with a white star on the front with red and white striped shorts. If you want a less "busy" look, pair stars or stripes with another solid-colored piece. Instead of putting a striped tank top with a star-covered skirt, keep it simple and switch out the pattern for a plain navy blue version.
Accesories
Don't forget about accessorizing your patriot day look. Try a dangling pair of patriotic themed earrings that feature red, white and blue stars or tiny U.S. flags, or go for a star-themed necklace. Dress up your patriotic style with a red-and-white-striped clutch or a star-studded purse. Keep the effect going all of the way to your toes and opt for a pair of red, white or blue sandals or sneakers.
References
Writer Bio
Based in Pittsburgh, Erica Loop has been writing education, child development and parenting articles since 2009. Her articles have appeared in "Pittsburgh Parent Magazine" and the website PBS Parents. She has a Master of Science in applied developmental psychology from the University of Pittsburgh's School of Education.
Photo Credits
Digital Vision./Digital Vision/Getty Images