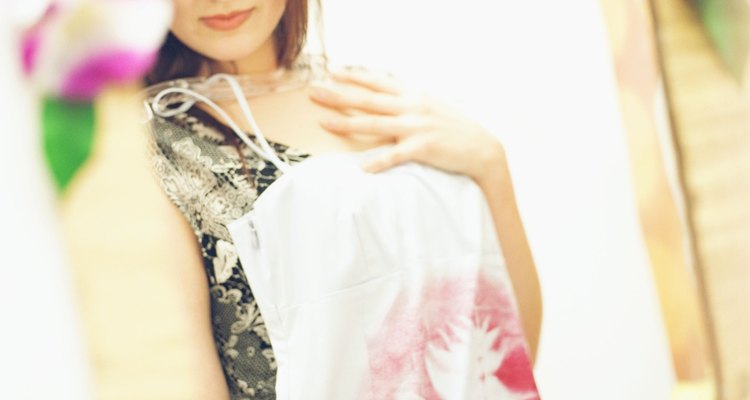 Jupiterimages/Photos.com/Getty Images
While Saturday night warrants fast-paced fun, Sunday summons you to slow it down a bit. If you're heading out to a delectable champagne brunch before starting the work week, you'll need to dress the part -- that means leaving your T-shirt and tennis shoes far, far behind. Champagne brunch connotes a bit of elegance -- think conservative with a trendy twist. Whether you're dining at a hotel's serve-yourself buffet, sitting at a friend's dining-room table or feasting on a menu-selected meal at a country club, you'll want to keep your appearance in perfect order when attending a champagne brunch.
Women's Wear
Women should think dressy casual and take the venue into consideration. You'll be a shoo-in at a fancy hotel with a pair of kitten heels finishing off a polka-dot or feminine dress, or a well-appointed pants suit. When brunch is at a stand-alone restaurant with your gal pals, you'll be perfect in a sweater set and a pair of slacks, or a well-fitted blouse and a flowy skirt -- either look completed with a cute pair of embellished sandals. Choose vibrant colors such as pink, tangerine and lavender, or opt for pastel hues like cream, pale blue and yellow. You can also add in some fun florals or stripes given the time of day. It's best to keep dark colors at bay. Remember you're at a brunch -- not a bar.
Men's Must-Haves
Khaki pants and dressy slacks are the perfect starting point for men. If the weather is chilly, slip a softly hued sweater vest, Oxford sweater or thinly knit, crew-neck under a blazer. Come springtime, you'll feel comfortable in a short-sleeved, patterned, woven shirt with a nylon jacket over it. Or, you might opt for a seersucker or polo shirt, or a long-sleeved linen shirt with rolled-up sleeves. If the restaurant is on the casual side, it is acceptable to wear jeans -- just make sure they are dark-stained, well-fitted and accompanied by dark socks and a dressy shoe. Unless specified by the venue, you can always skip the tie.
Get Your Groom On
Don't stop at your outfit -- looking the part for a champagne brunch means tending to your whole look. Women obviously have more options than men, but both need to sport a hairstyle that shows effort. Women, you can wear hair down with some flouncy curls to show off a feminine side, or pull your hair slick back into a pony to show a chic side. You can even add in some delicate braids that pull toward an updo. Men should make sure hair is freshly washed and combed. Add a bit of gel to get that oh-so-sexy Justin Timberlake side part, or spritz in some texturizing spray to create a tousled yet cultivated hairstyle. Both men and women should have clean, well-manicured nails and take care of any unwanted hairs.
Don't Diss the Details
Polish off the outfit with a pair of comfortable, dressy shoes. While wing tips and stilettos might be a bit much, leather boots, cute kitten heels, wedges, stripy sandals, slip-on oxfords or lace-up bucks fit the brunch bill perfectly. Keep jewelry simple and sophisticated by choosing between a single gold necklace, a strand of pearls, or a silver choker, and slip on a pair of petite dangling earrings, for example. Men should always wear a brown or black leather belt or a colorful canvas creation -- depending on the time of year. If the champagne brunch is outdoors, hats off to the man who wears a fedora, while women look elegant in a wide-brimmed straw hat with subtle decorative detailing.
References
Writer Bio
Based in Los Angeles, Lisa Finn has been writing professionally for 20 years. Her print and online articles appear in magazines and websites such as "Spa Magazine," "L.A. Parent," "Business," the Famous Footwear blog and many others. She also ghostwrites for mompreneurs and business owners who appear regularly on shows such as Ricki Lake, HGTV, Carson Daly and The Today Show.
Photo Credits
Jupiterimages/Photos.com/Getty Images