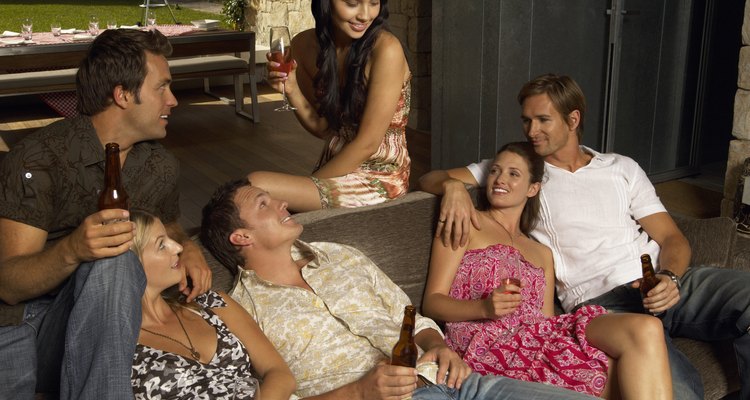 Kane Skennar/Photodisc/Getty Images
An e-vite is usually a welcome sight in your inbox -- until you realize that you've got to figure out what to wear to another party. A house party may be casual or formal, but that just means more leeway -- and confusion -- concerning what's appropriate. Asking a few questions before your next event can save you some stress and ensure that you celebrate the occasion in style.
Go to the Source
If you're unsure about what to wear to a house party, check with the host to see if there's a dress code. In most cases, casual clothing is the order of the day, but your host may be planning an event where dressy-casual or cocktail attire is required. Consult your invite to see if it's a theme party so you can dress with a certain look in mind. For example, you may want to bust out your Hawaiian shirt for a luau-themed bash.
For the Ladies
If you're going to a casual house party, dark-wash jean work well. Pair them with a T-shirt or tank top and layer a cardigan or boyfriend blazer over it. Ballet flats or flat boots are an ideal footwear option -- you may be standing for a while as you mingle. For a dressy-casual event, opt for dress trousers, a fitted button-down blouse and a pair of heeled booties or pumps. When you're headed to a cocktail party, go with your little black dress or another knee-length sheath in an elegant material.
For the Guys
Jeans and a tee or polo shirt work well for a relaxed, low-key look. When the weather's cool, layer a V-neck sweater over your T-shirt. For a dressy-casual party, wear a pair of khakis, a button-down and leather boots. A cocktail party usually requires a tie and dress shoes or boots. You can wear them with a dark suit if the party is formal; throw on a sports coat with a button-up shirt and tailored trousers for a more casual cocktail soiree.
References
Writer Bio
Based in New York City, Jennifer Blair has been covering all things home and garden since 2001. Her writing has appeared on BobVila.com, World Lifestyle, and House Logic. Blair holds a Bachelor of Arts in Writing Seminars from the Johns Hopkins University in Baltimore, Maryland.
Photo Credits
Kane Skennar/Photodisc/Getty Images